Der belauschte See
(…) Neben der bildnerischen Arbeit "sammelt" Osterwald seit Jahren Geräusche unterschiedlichen Ursprungs, die er seit einiger Zeit auch für akustische Installationen nutzt. Dieses Konzept eines künstlerischen "Lauschangriffs" hat Klaus Osterwald mit seinem Projekt "DONATUS SUBAQUA" seit 1996 ausgebaut. Ausgehend von der seit längerem in der Zoologie diskutierten Erkenntnis, dass auch Fische akustisch kommunizieren, konstruierte Osterwald Unterwassermikrofone, mit denen er im Donatussee, einer gefluteten Grube des ehemaligen Braunkohletagebaus in der näheren Umgebung von Köln, Tonaufnahmen in einer Tiefe von bis zu 12 m machte.
Überraschenderweise dokumentierte das Aufnahmegerät eine schier unglaubliche Fülle an verschiedenen Geräuschen: Eine völlig unbekannte Klangwelt, die Osterwald noch im gleichen Jahr in einer Installation in Ausstellungen in der Köln, London und Seoul vorstellte. Er installierte mehrere große, hornartige Schalltrichter aus Aluminiumguss mit Druckkammertreibern, aus denen die fremdartigen Laute seiner Unterwasser-Forschung hörbar wurden. Auch bei dieser Installation wurde die skulpturale Gestaltung zum wirkungssteigernden Moment: Die fanfarenähnliche "Hoheitsform" der Trichter überhöht die eher leisen Töne ins Monumentale und Rätselhafte. Doch mit der Präsentation als Installation hat die Arbeit an "DONATUS SUBAQUA" noch kein Ende gefunden: Inzwischen befassen sich Zoologen, Ethologen und Bioakustiker mit Osterwalds Aufnahmen. Neben ihrer Darstellung anhand von Kurvendiagrammen wird auch die wissenschaftliche Recherche so zum stetig anwachsenden konzeptuellen Teil des Werkes.
Andreas Denk
Zu sehen und zu hören:
Zu den akustischen Arbeiten von Klaus Osterwald
Kölner Skizzen 2/2000
The Eavesdropped Lake
(…) Besides his visual works of art, Klaus Osterwald has been collecting a variety of sounds for many years, and has used them in his sound installations. His conception of an artistic "bugging operation" was worked out in his project DONATUS SUBAQUA in 1998 and is still growing constantly. Based upon the knowledge that fish communicate acousticly, he constructed his own hydrophones to make sound recordings in a in a debth of up to 12 m in a little lake near the city of Cologne.
Osterwald was surprised that his recording equipment was able to document such a huge variety of underwater sounds. There are sounds of the underwater environment like gas bubbling up from the bottom, plants producing oxygen, insects and even the calls of waterboatmen. But there are also very mysterious "voices", which could not be identified up to now even though Osterwald confronted some zoologists with his acoustic discoveries. The research on the origins of the "underwater-voices" of Lake Donatus has become a constitutive part of the art project DONATUS SUBAQUA, which Osterwald presented in a several exhibitions in Germany, South Korea and Great Britain, Columbia. In his installations the sounds emerge from large horn-shaped speakers from cast aluminum, hanging at the ceiling. Each hornspeaker softly sends one of the mysterious "voices".
Andreas Denk
See and Listen:
The Acoustic Works of Klaus Osterwald
Kölner Skizzen 2/2000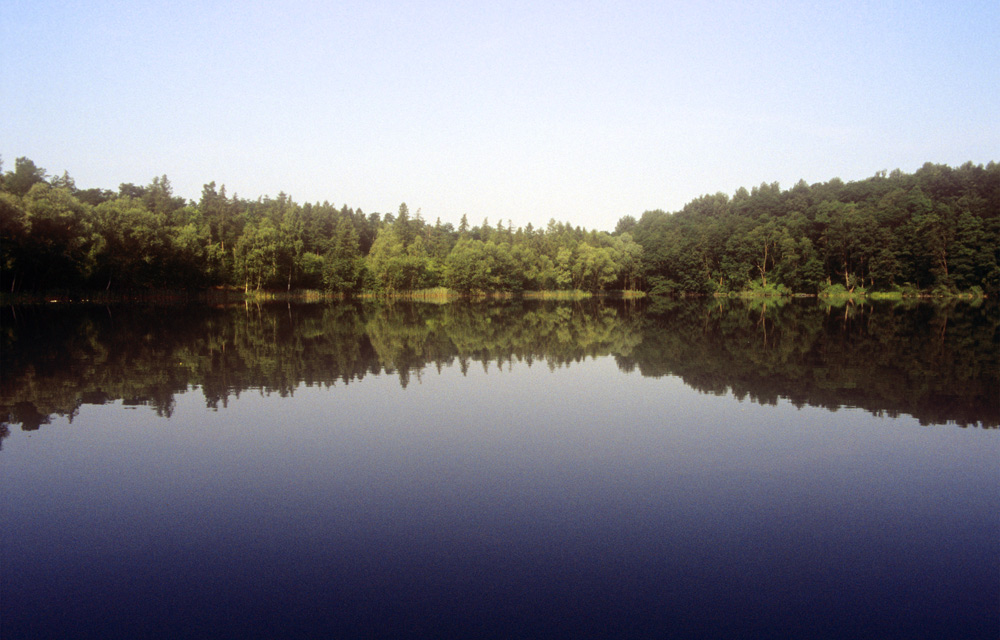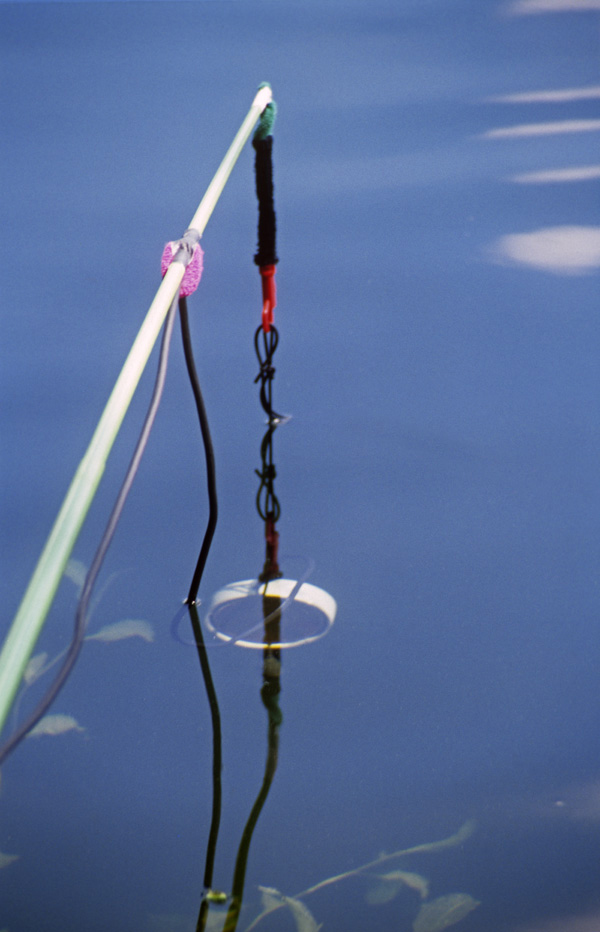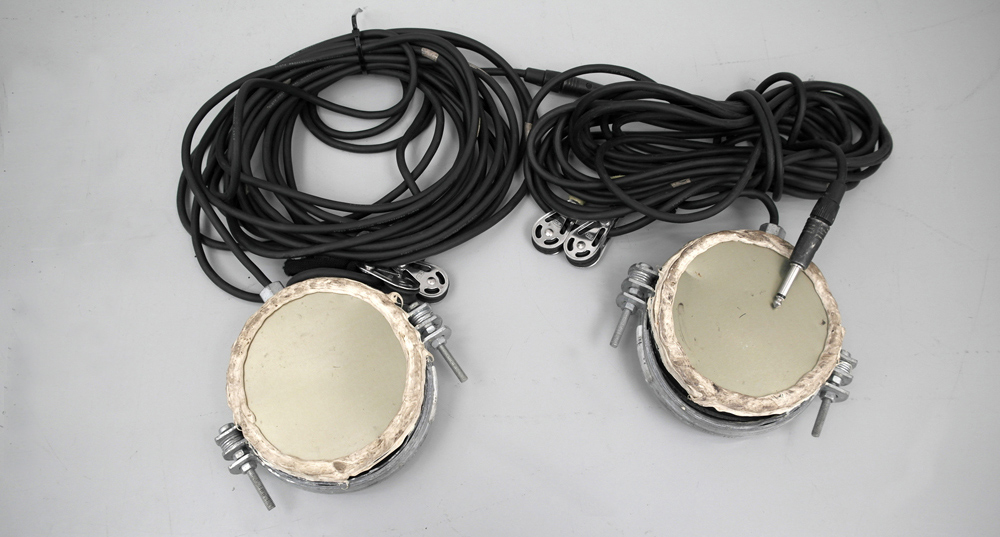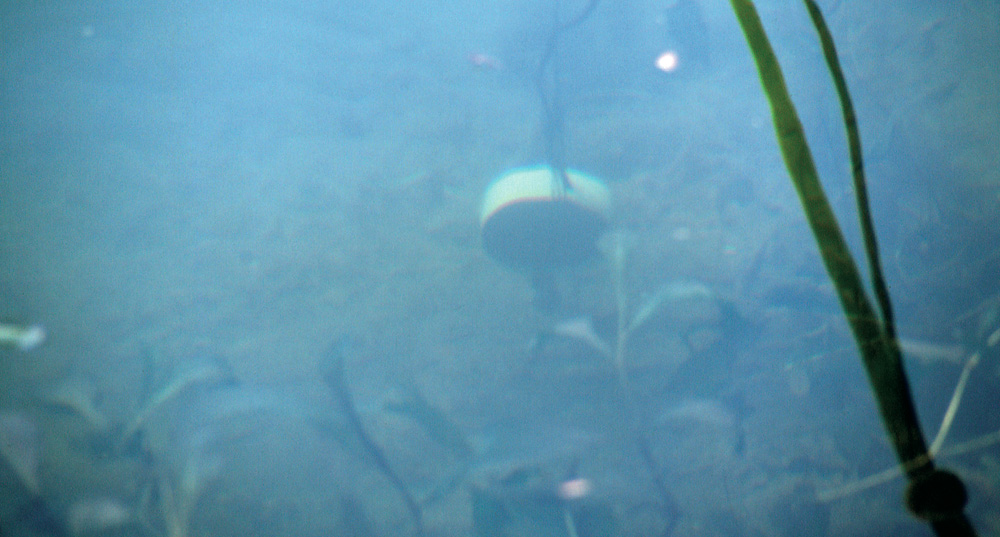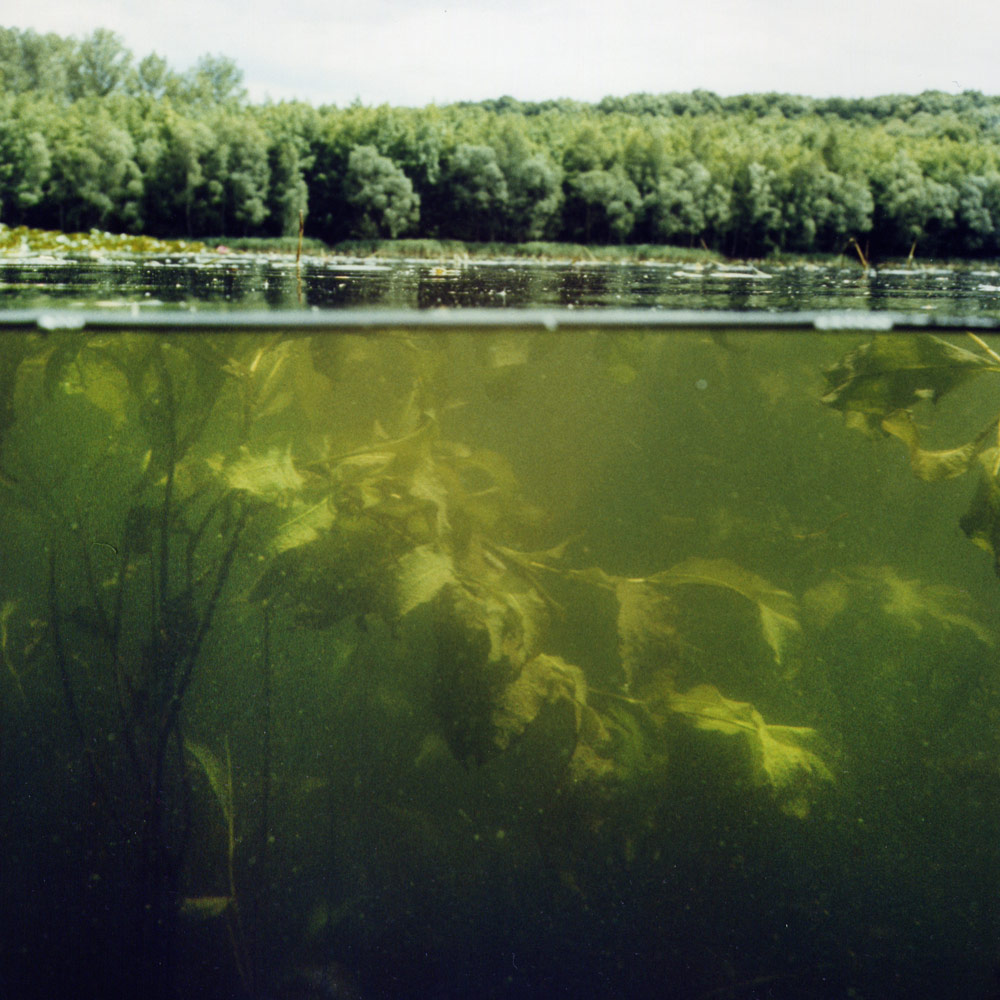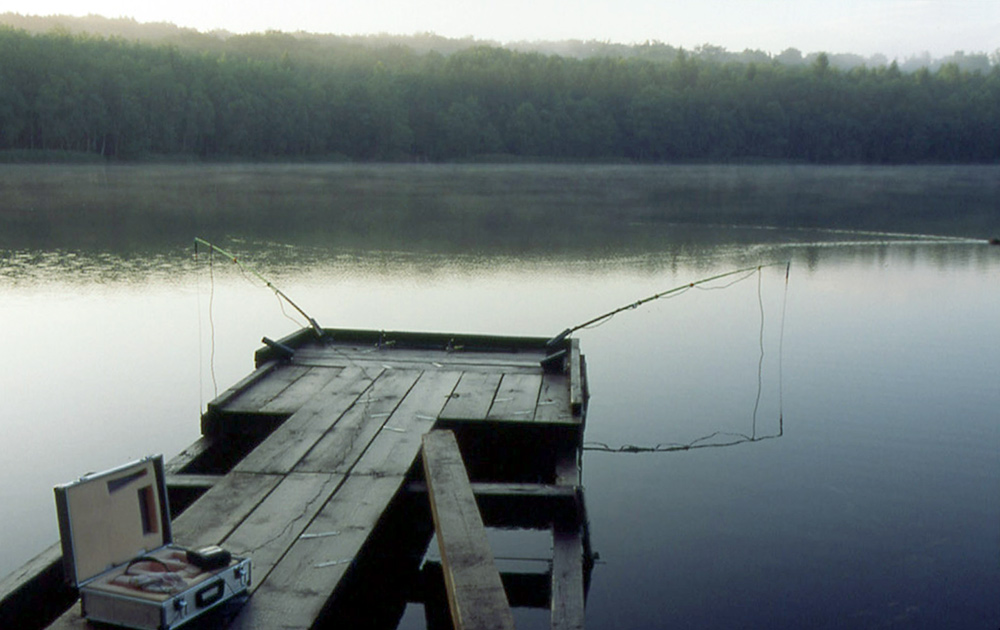 Der Sonnenbarsch greift das Hydrofon an.
The sunfish attacks the hydrophone.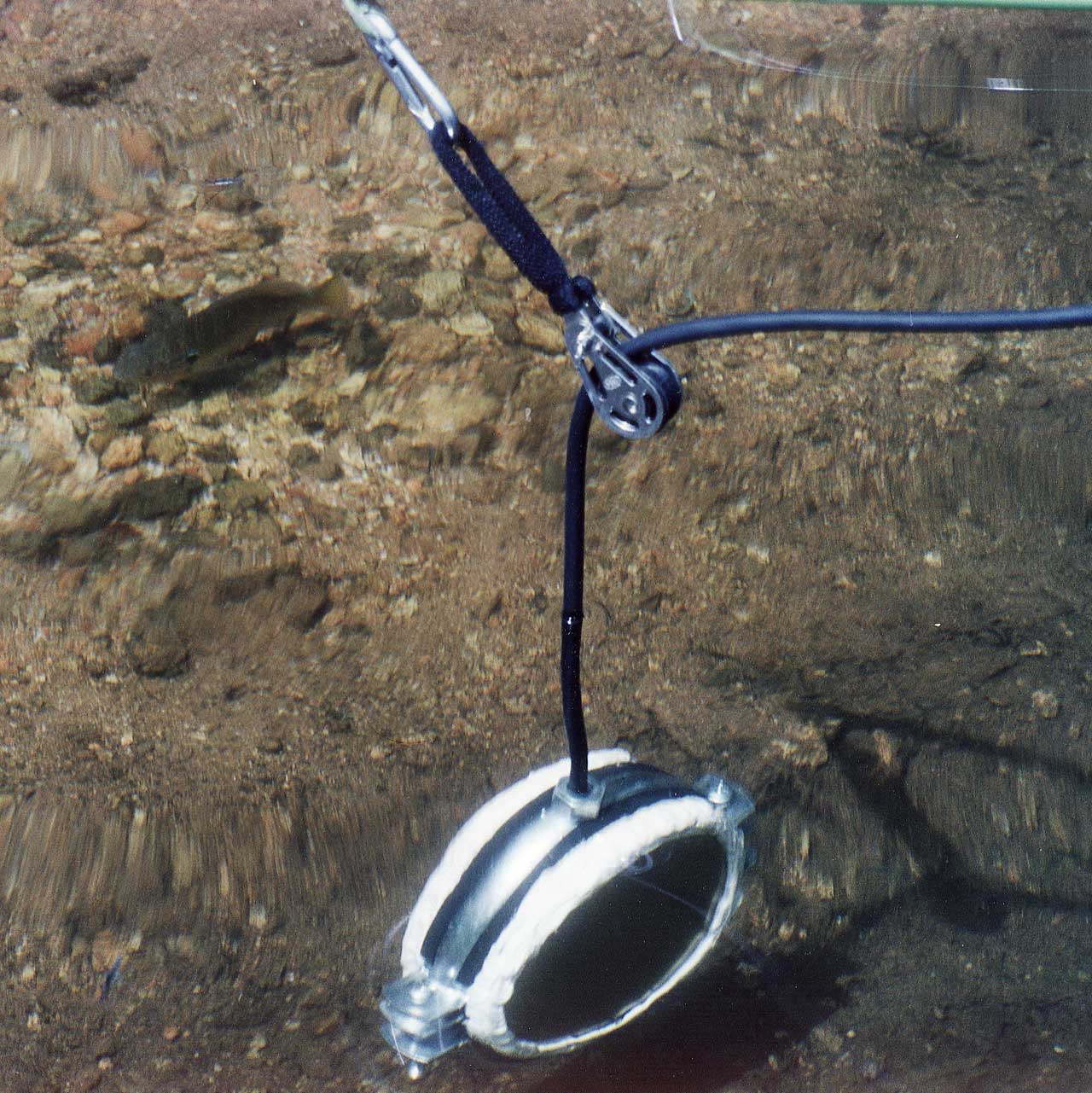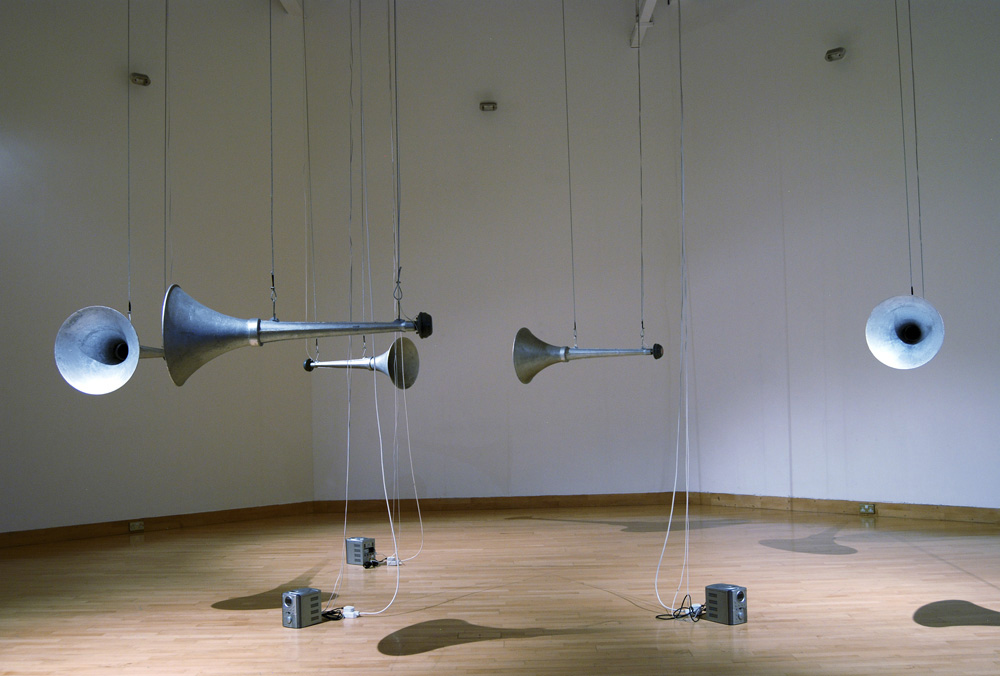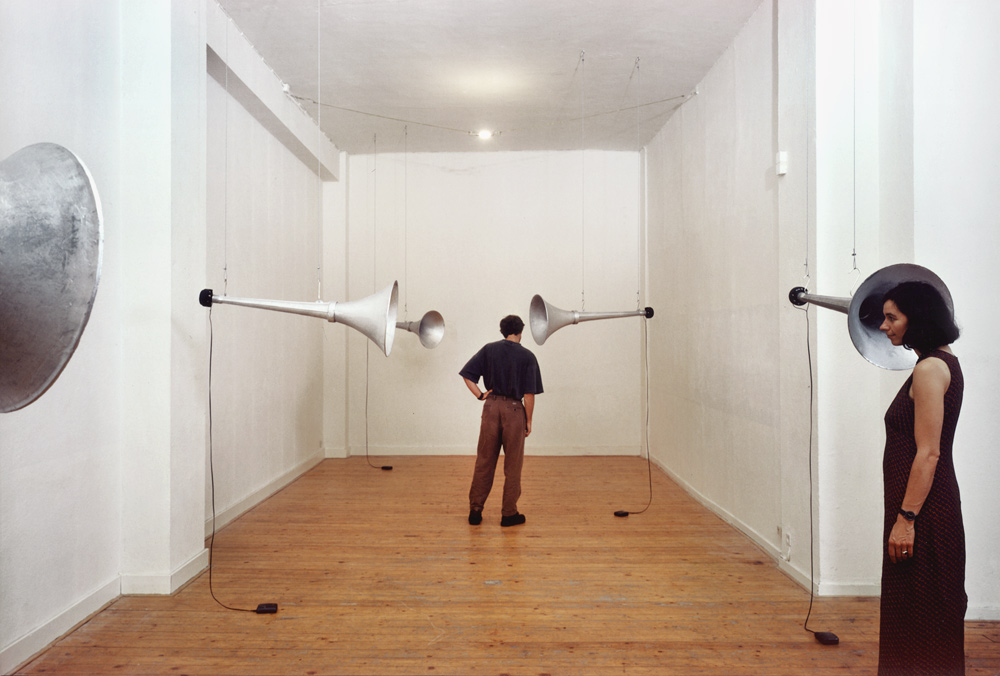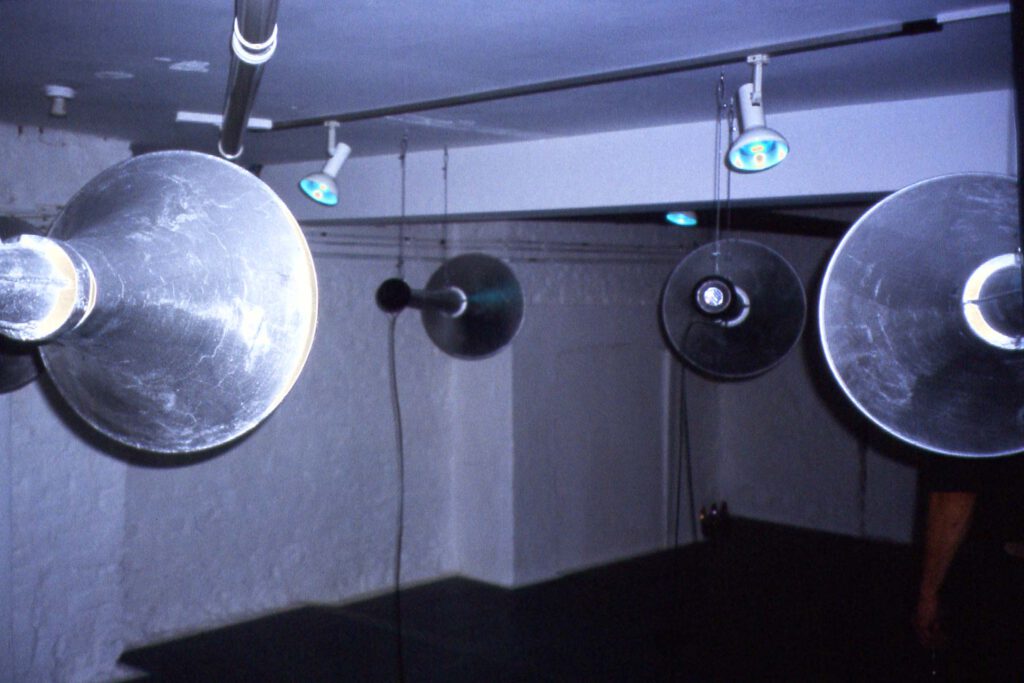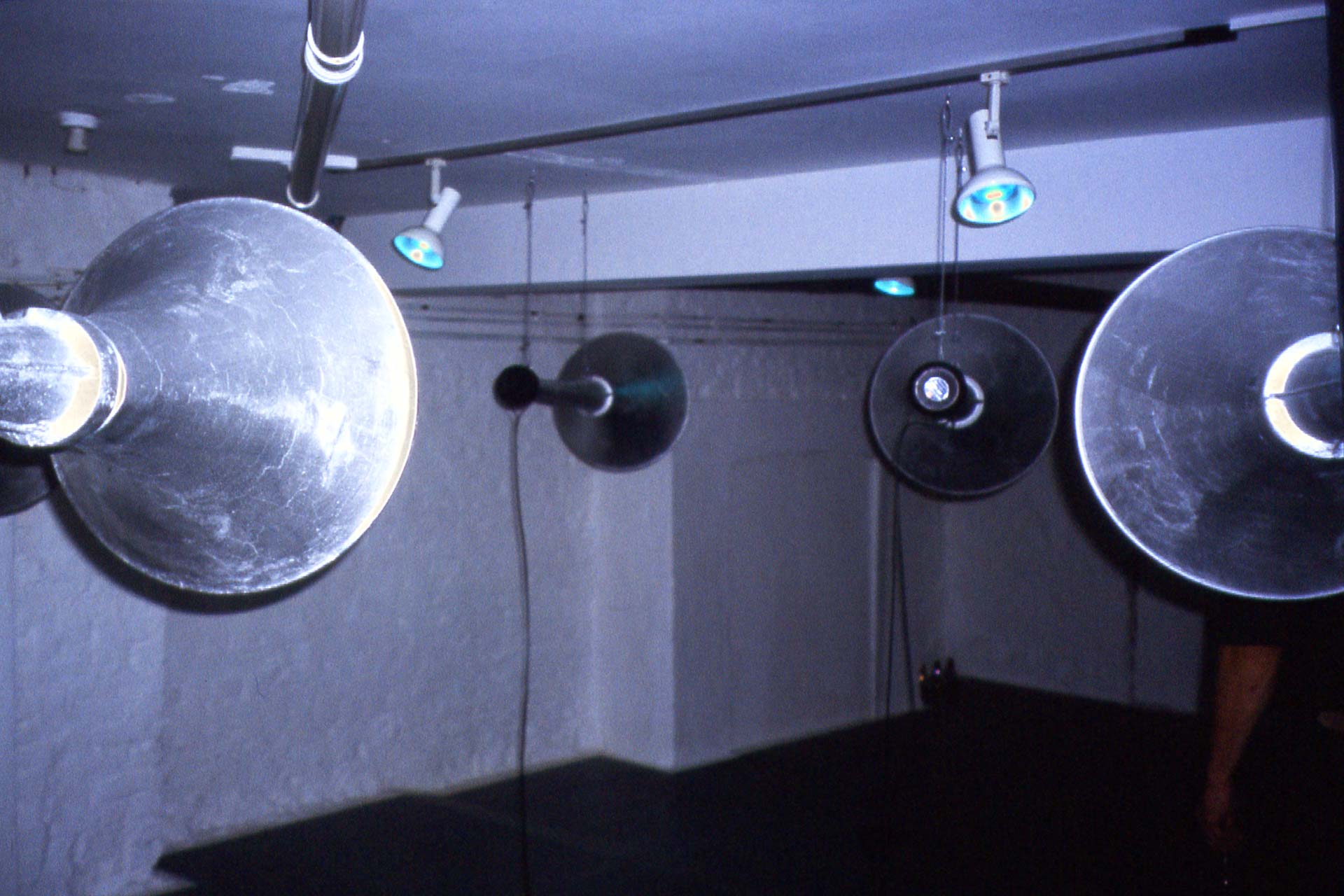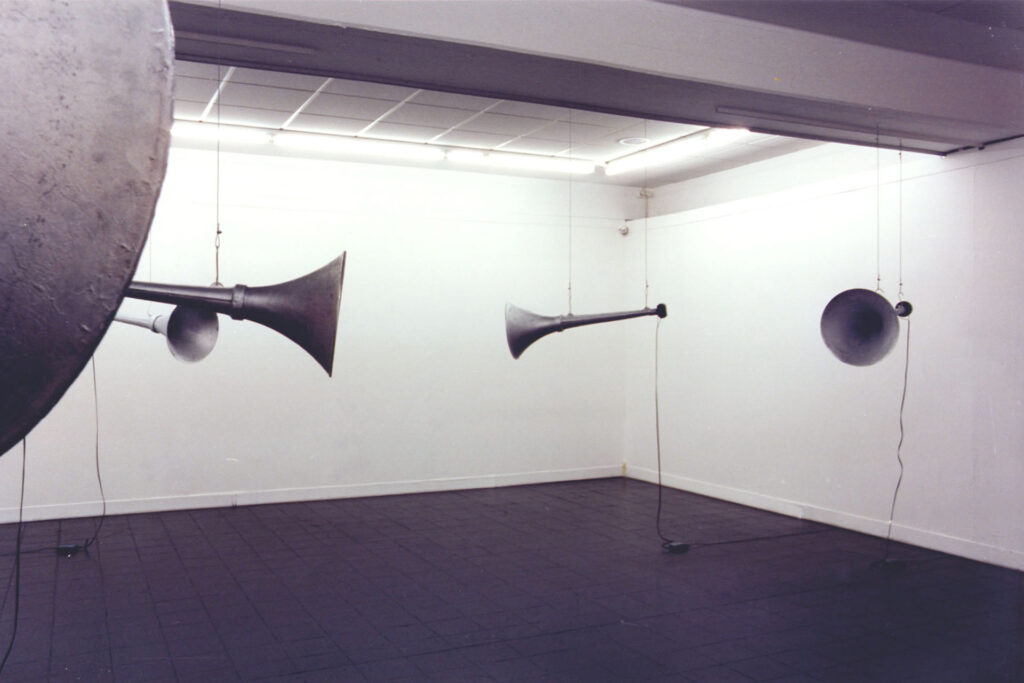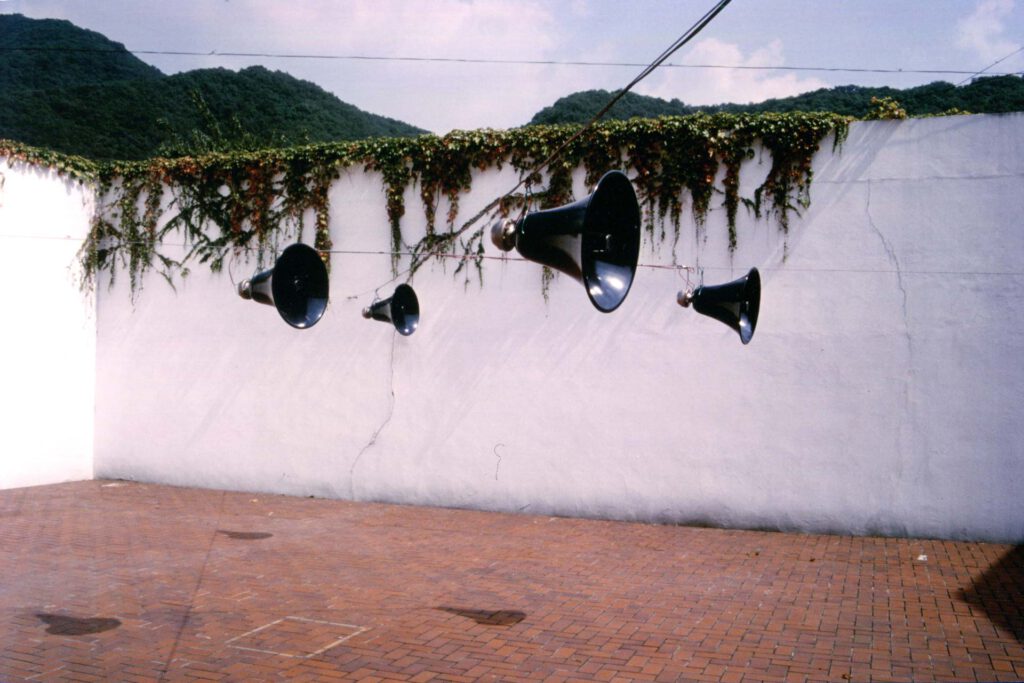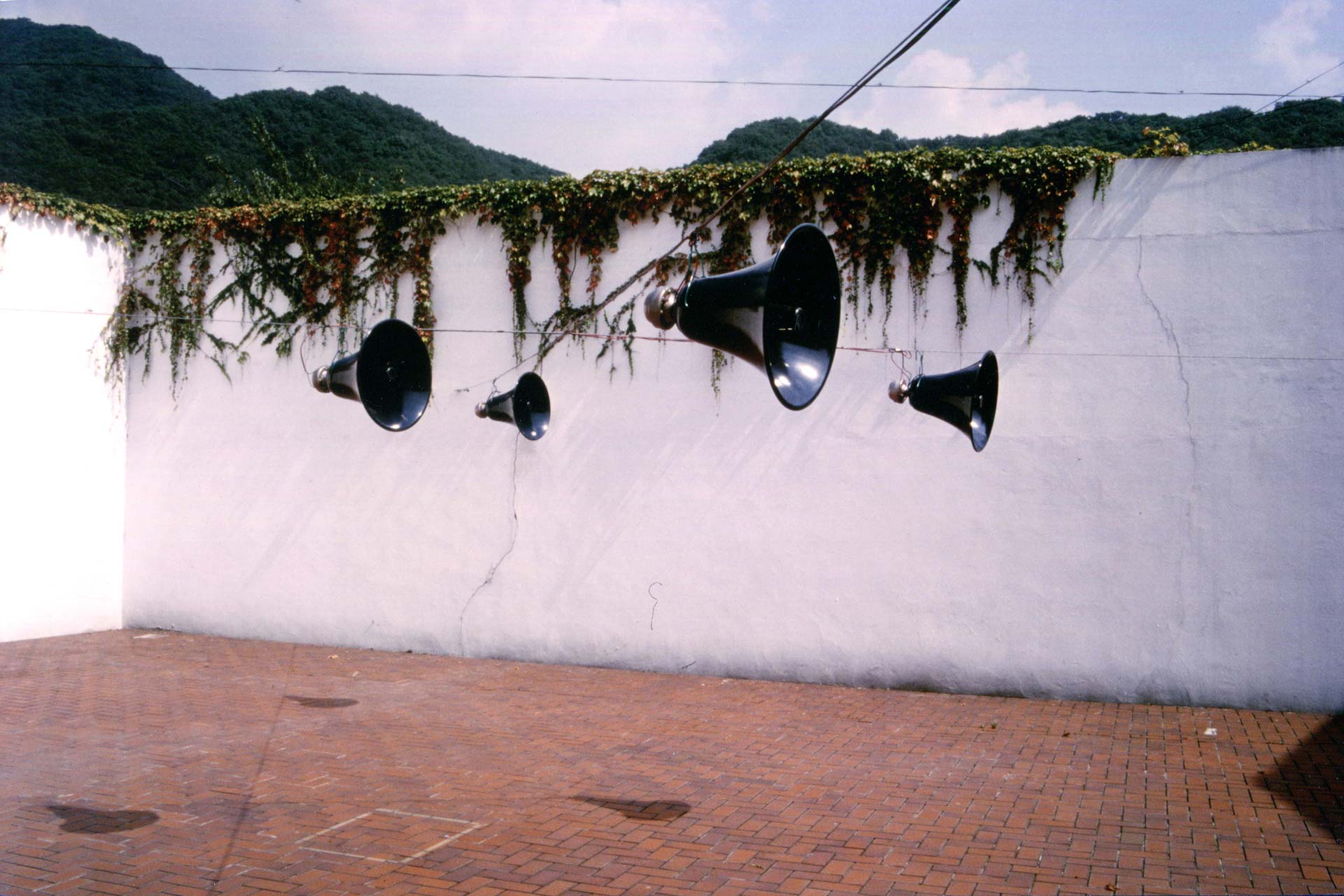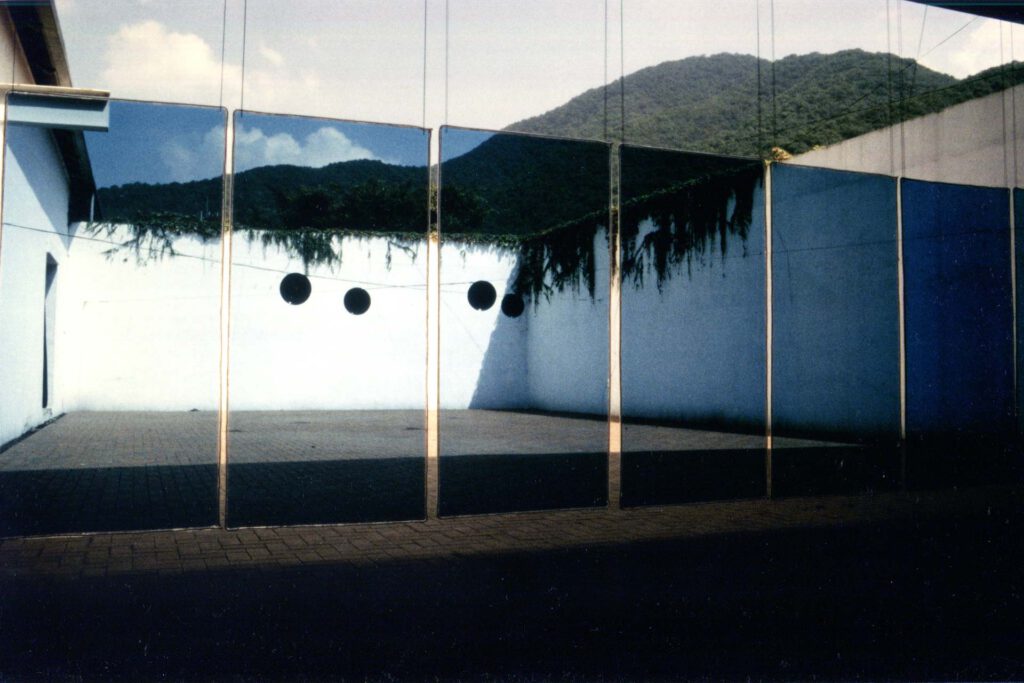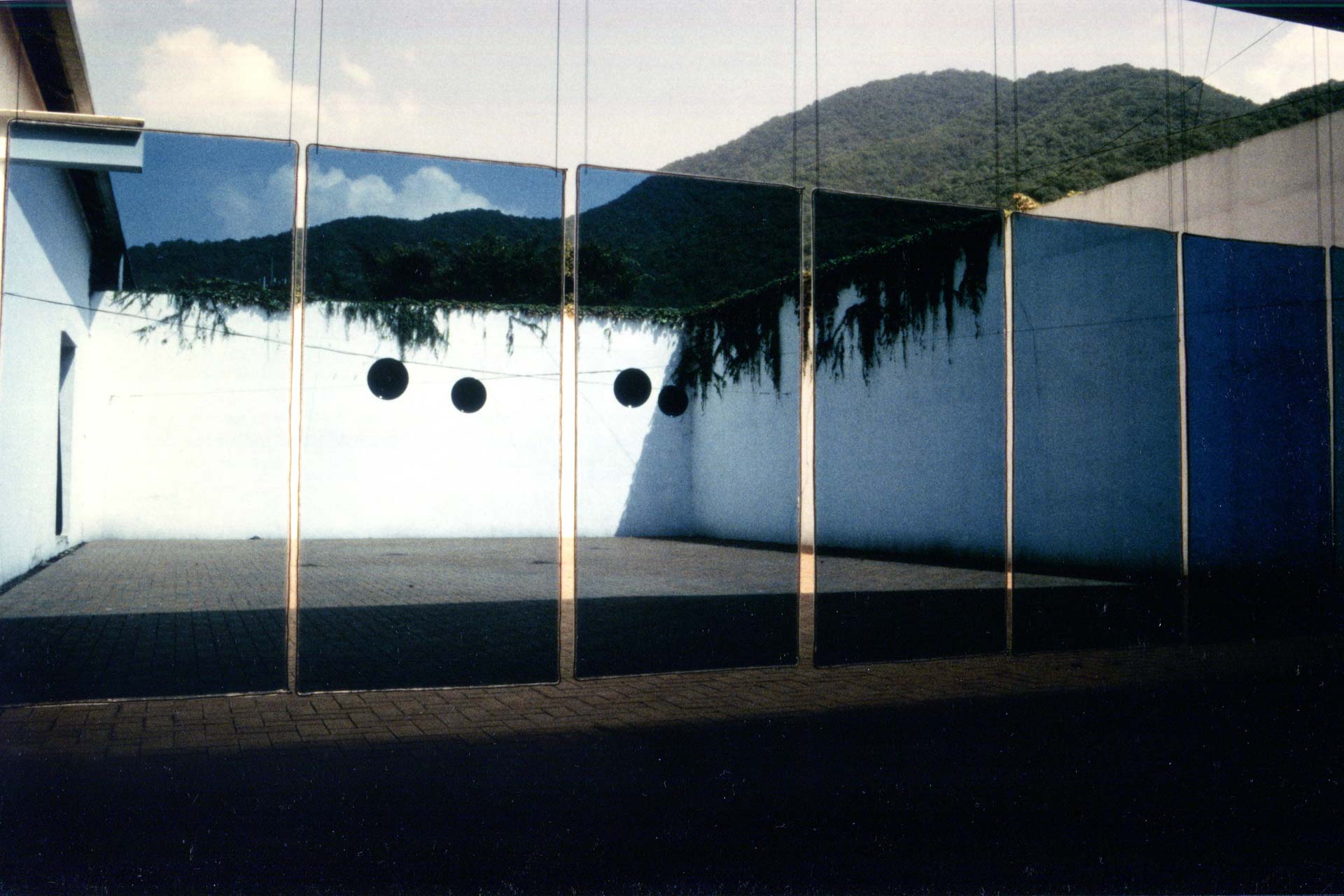 Unterwasser-Tonaufnahmen (Zusammenschnitt) / Underwater recordings (montage)
Nörgelei / Nagging, Gumpenklang, Knatterer, Unknown singer in Lake Donatus
Klangbild / Soundscape Donatussee
Unbekannter Sänger im Donatussee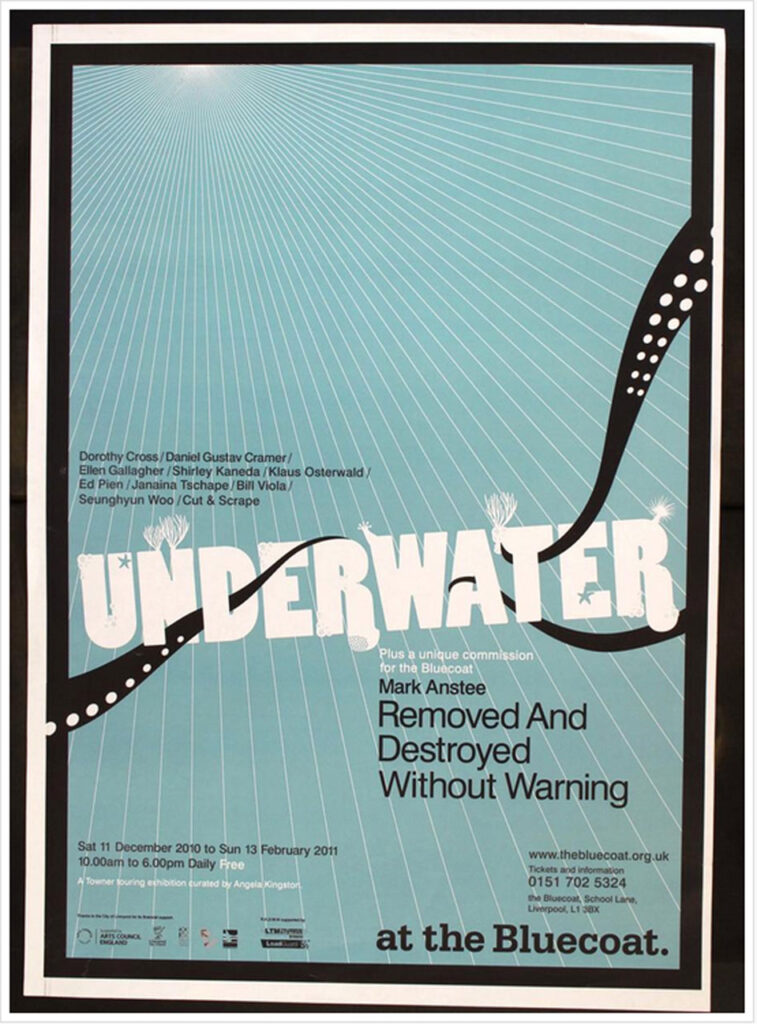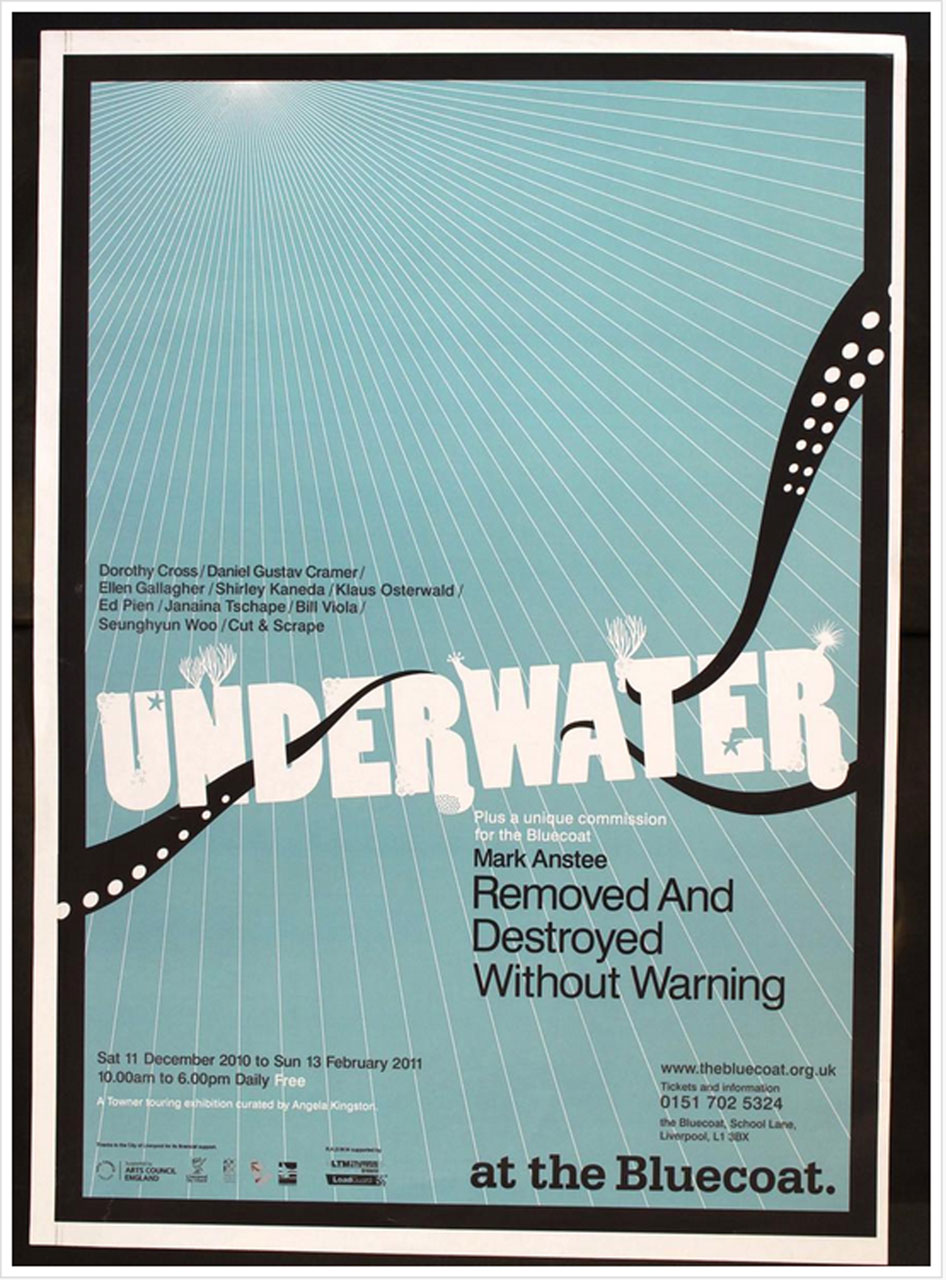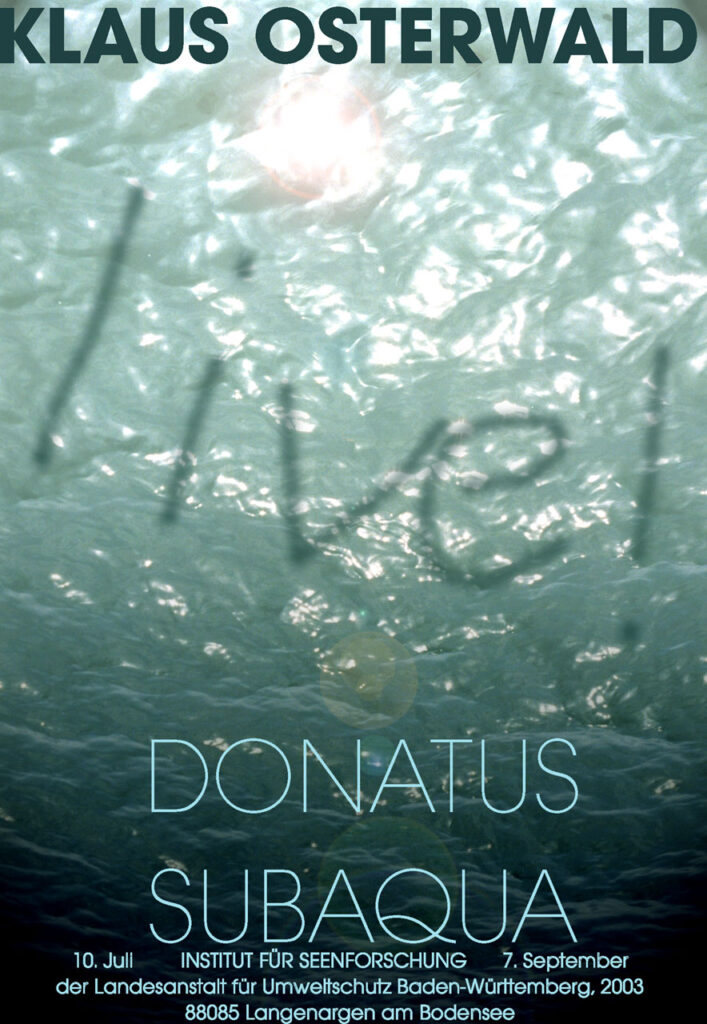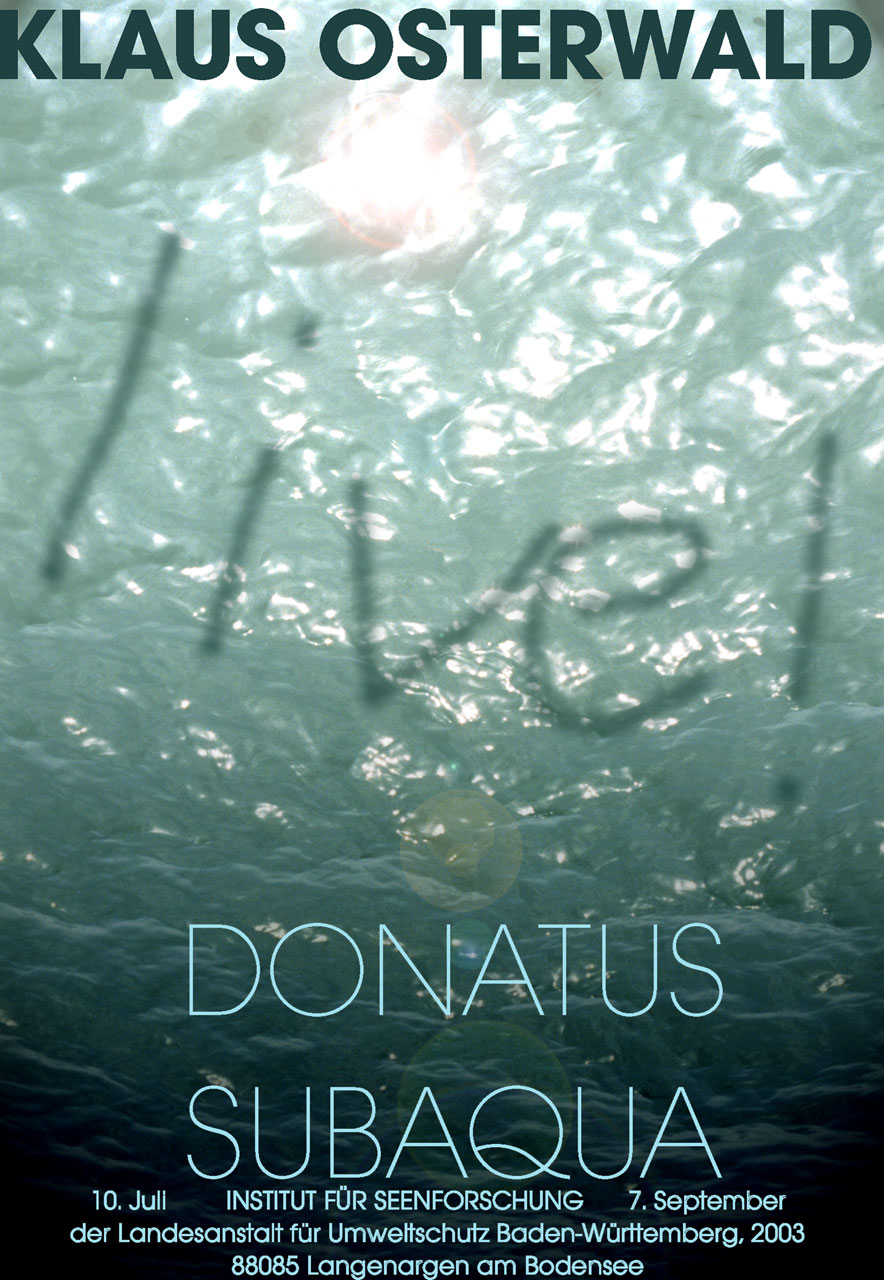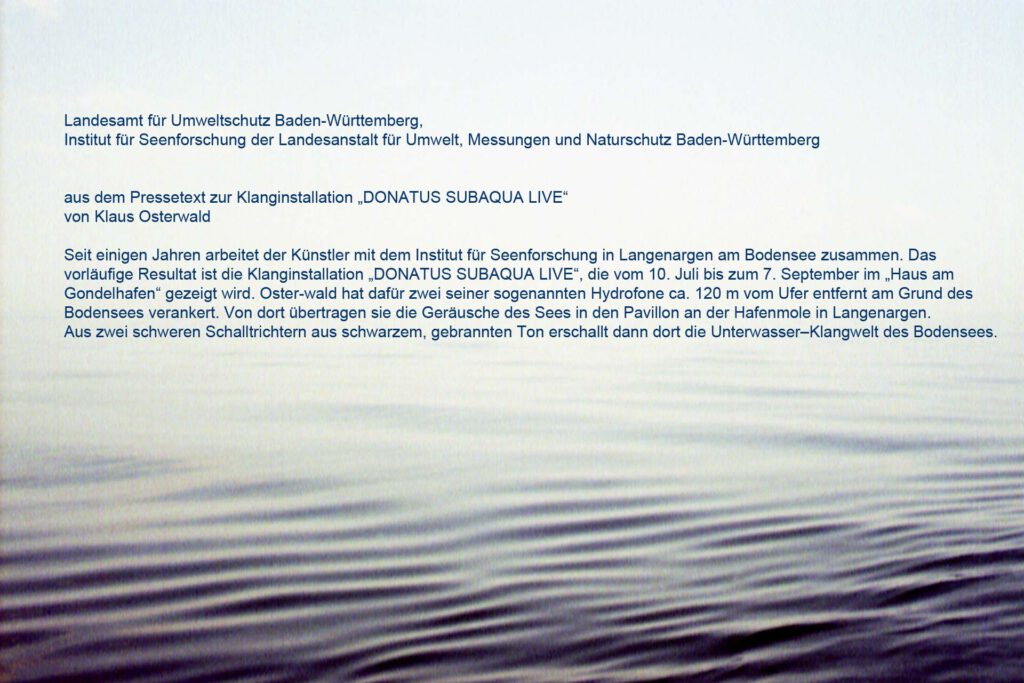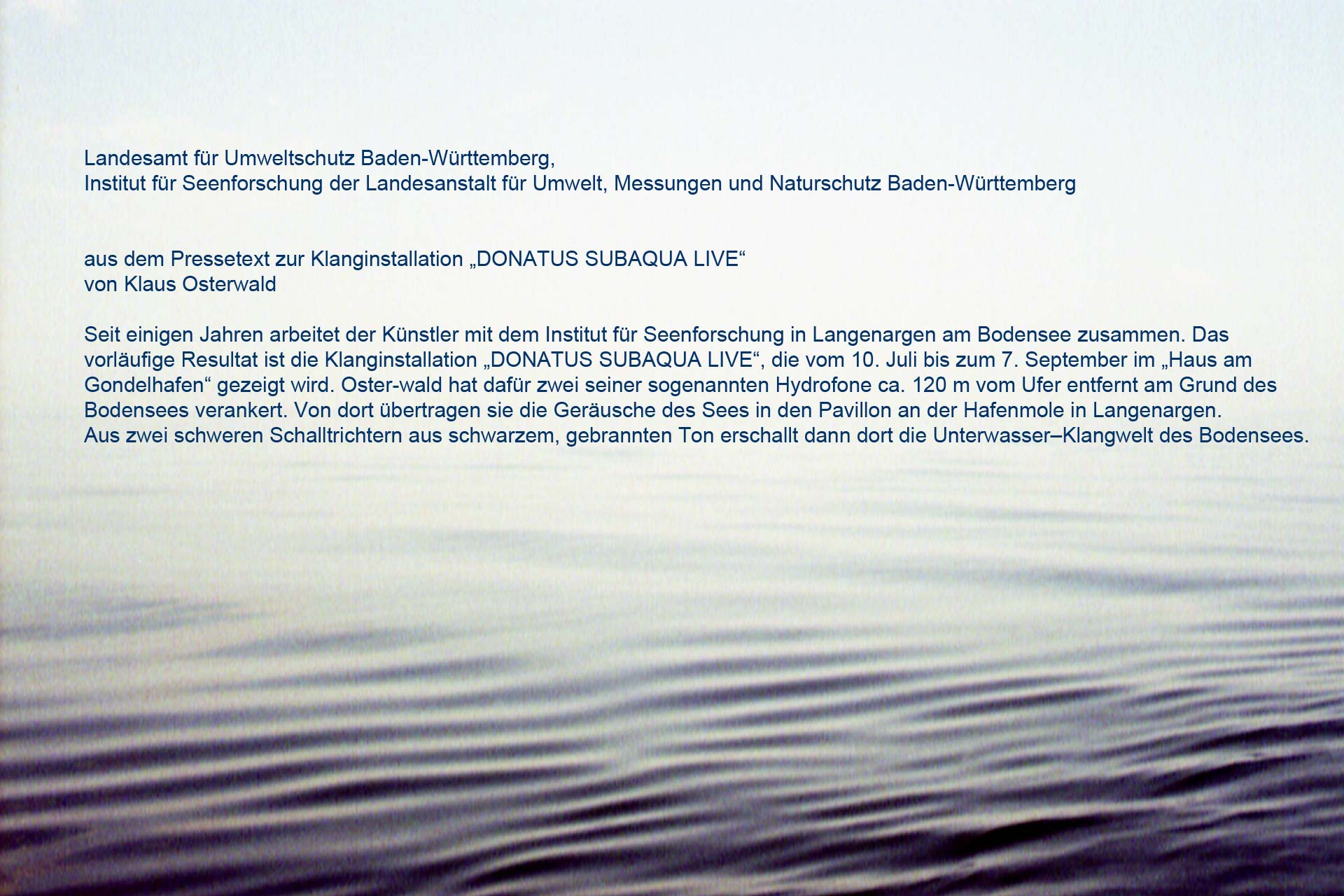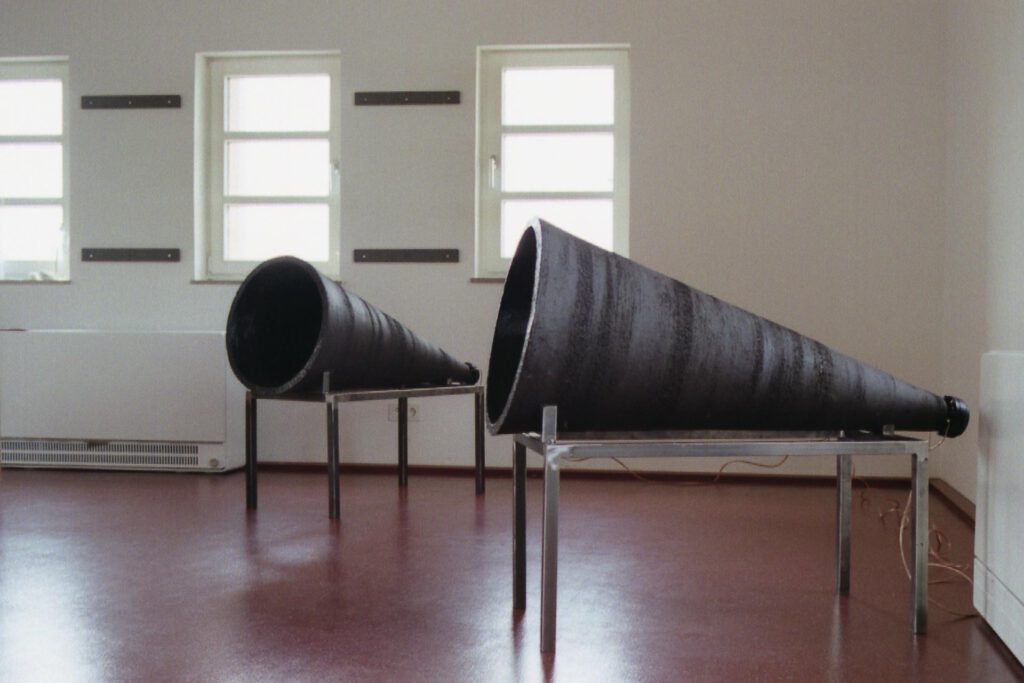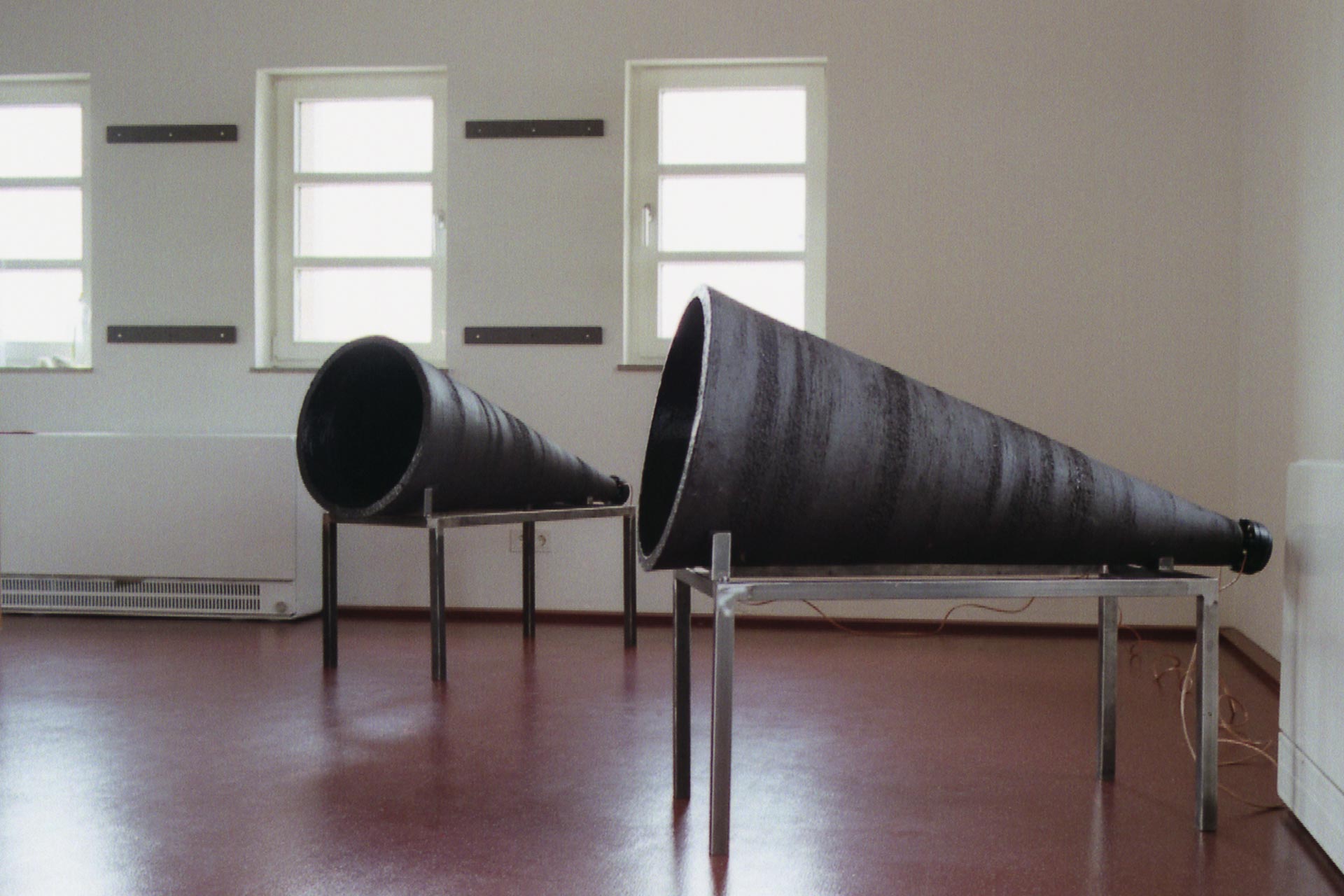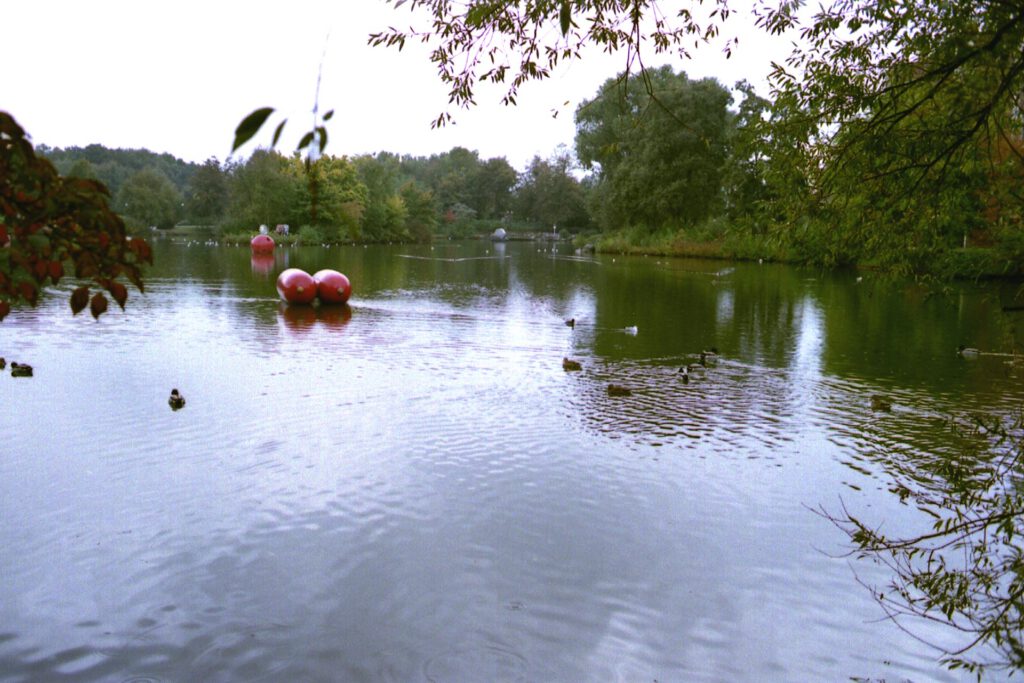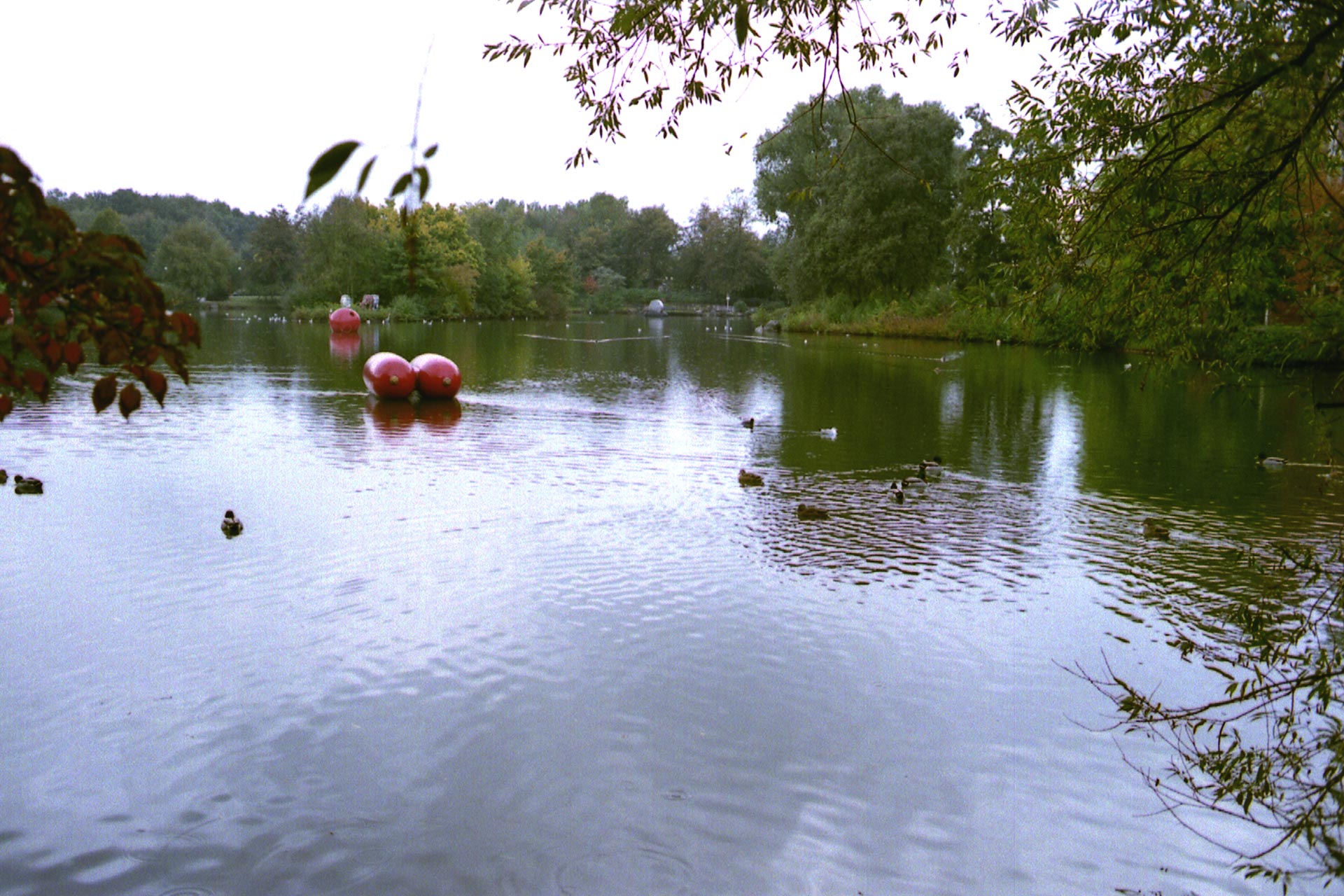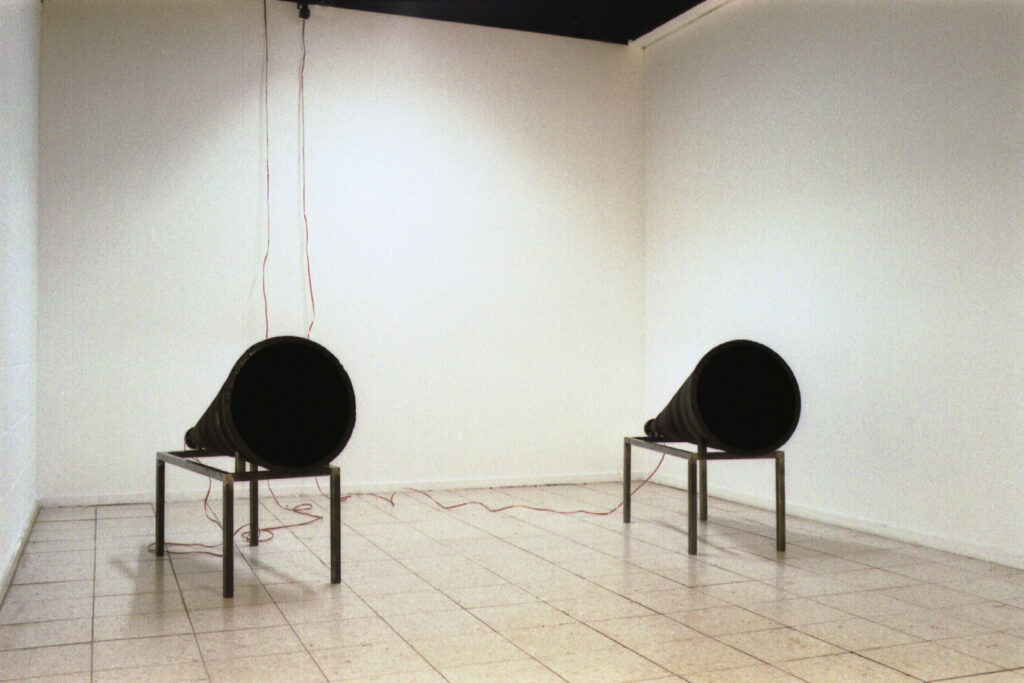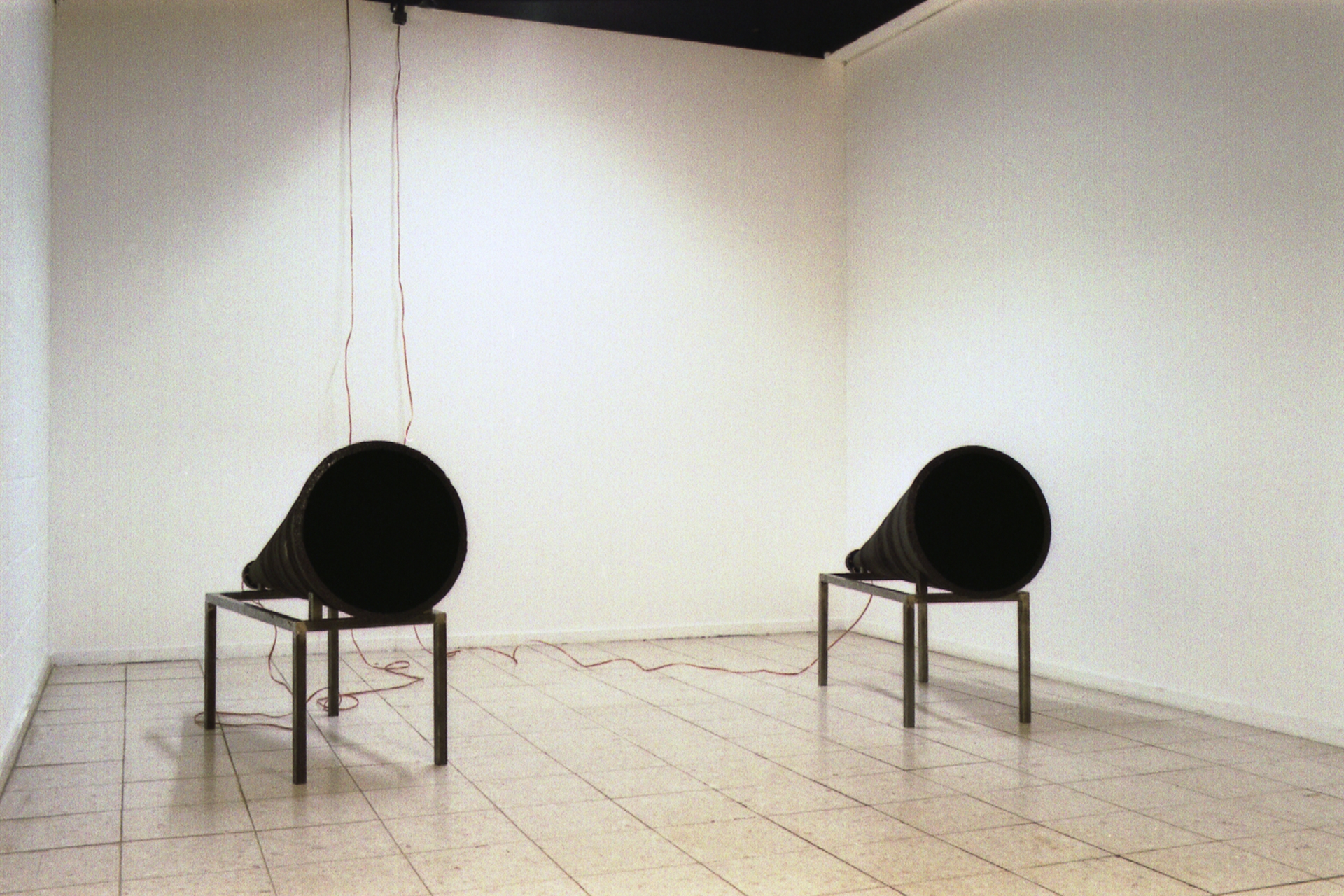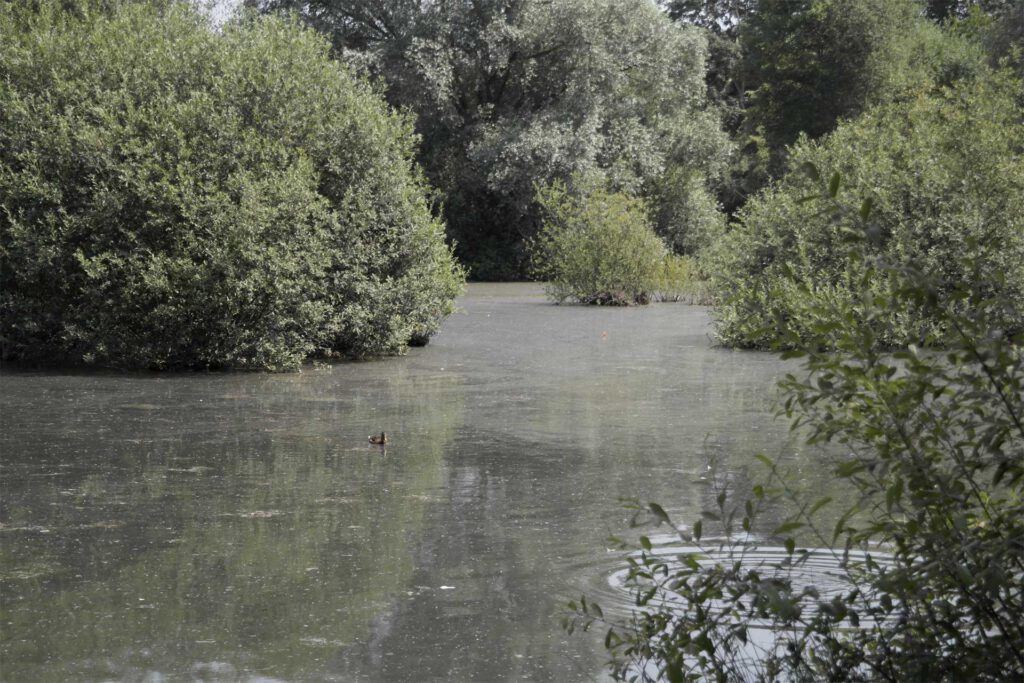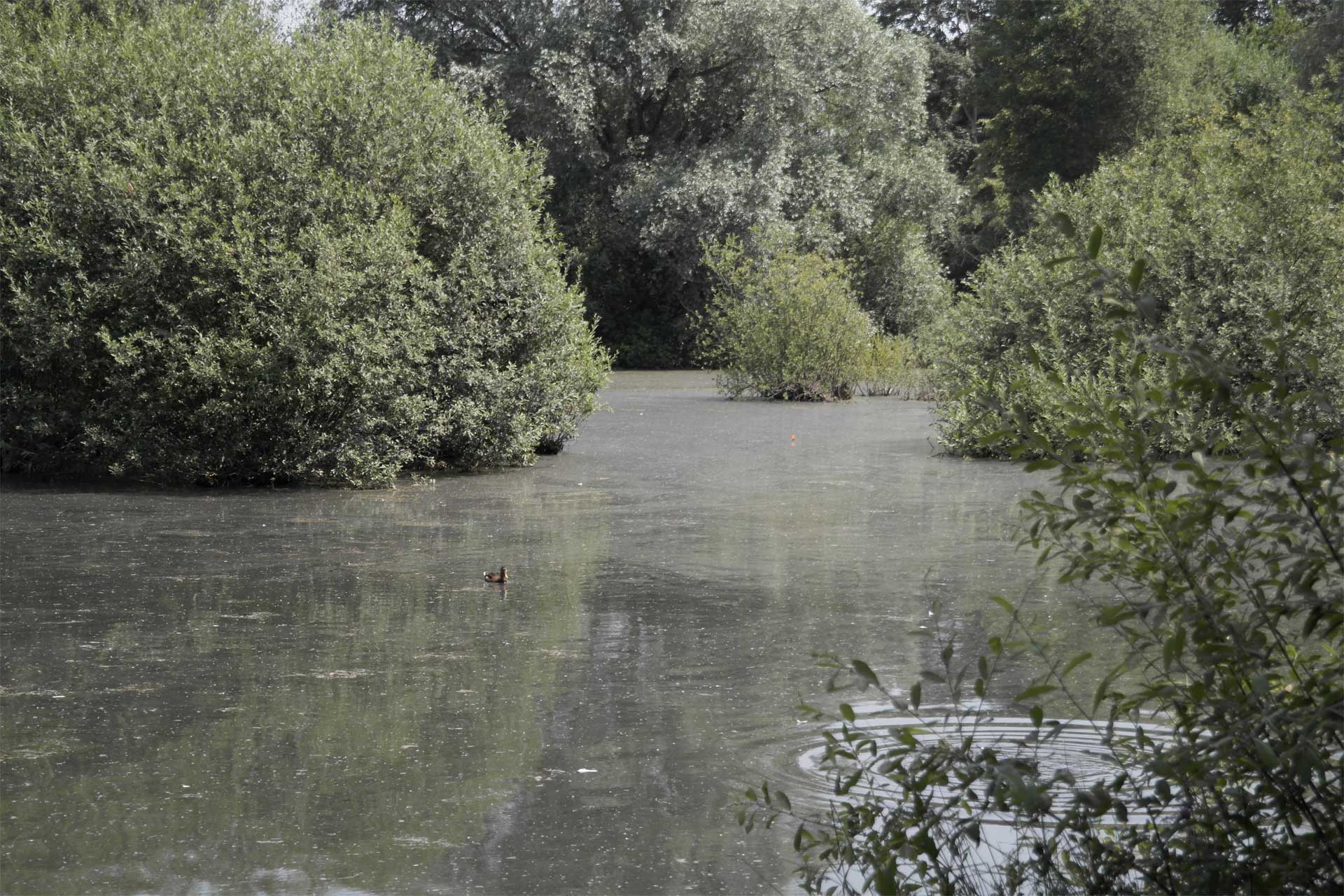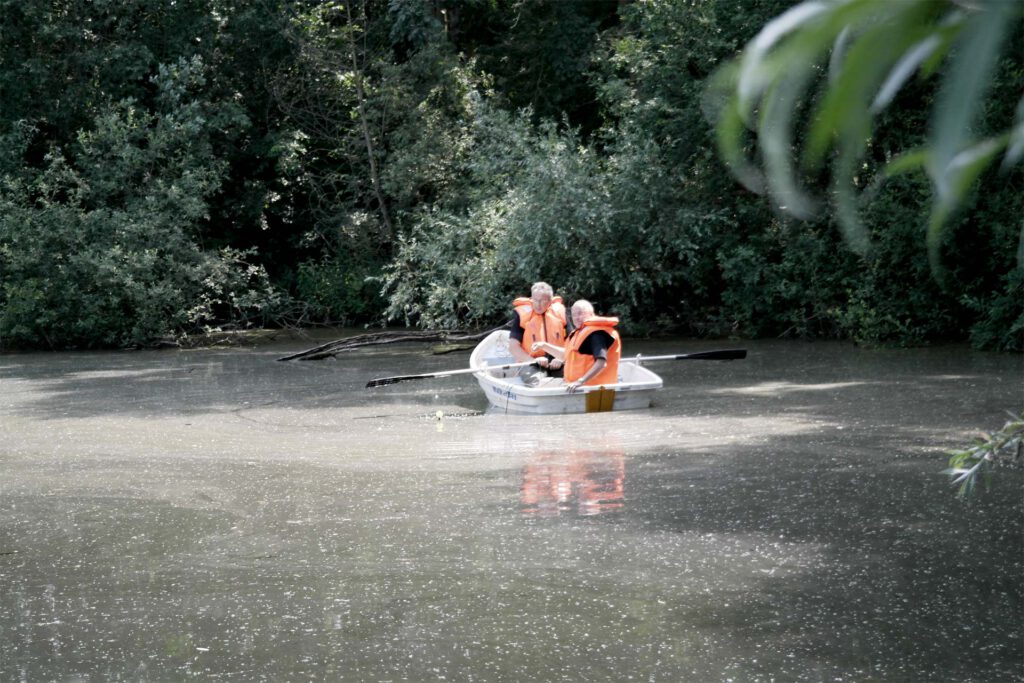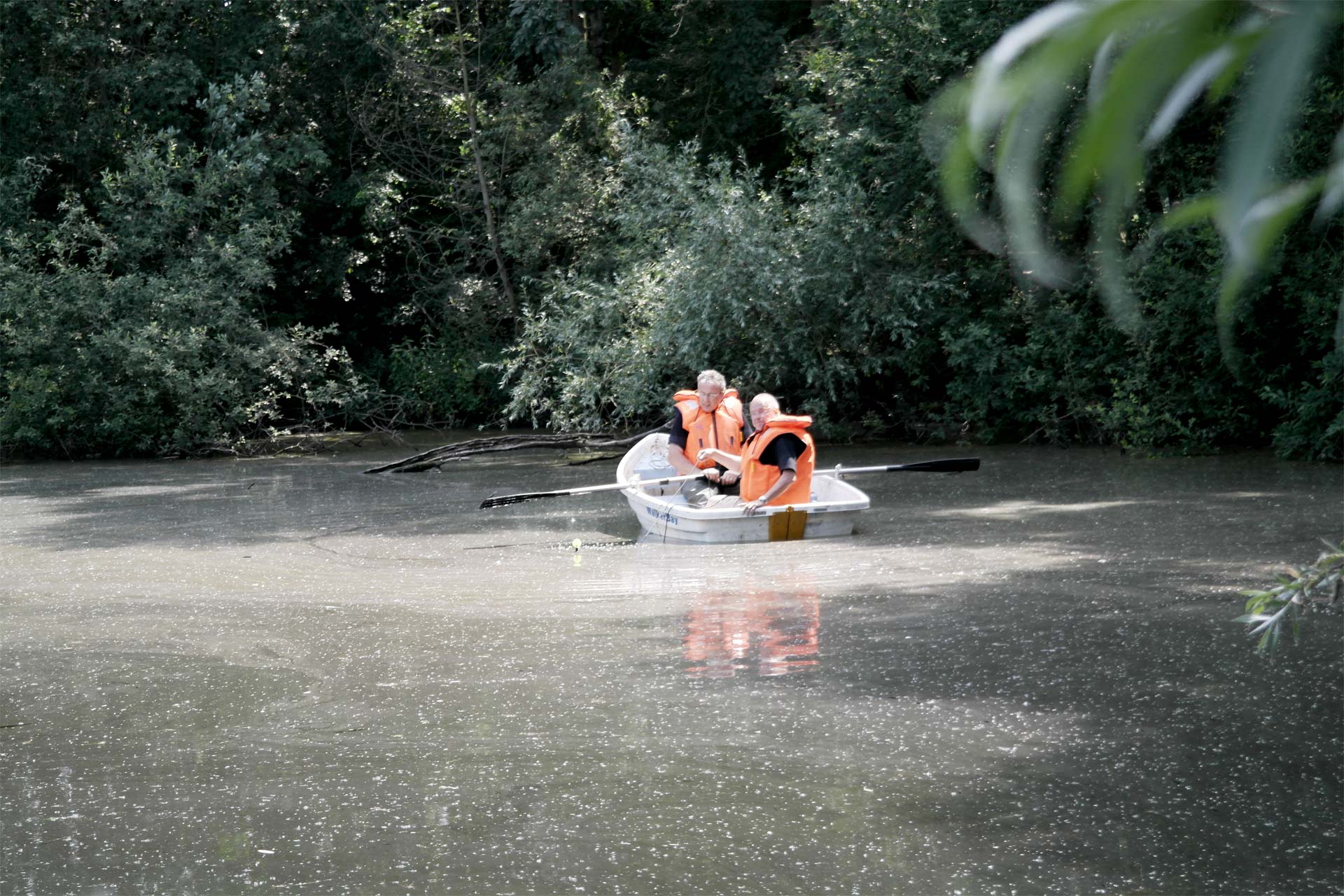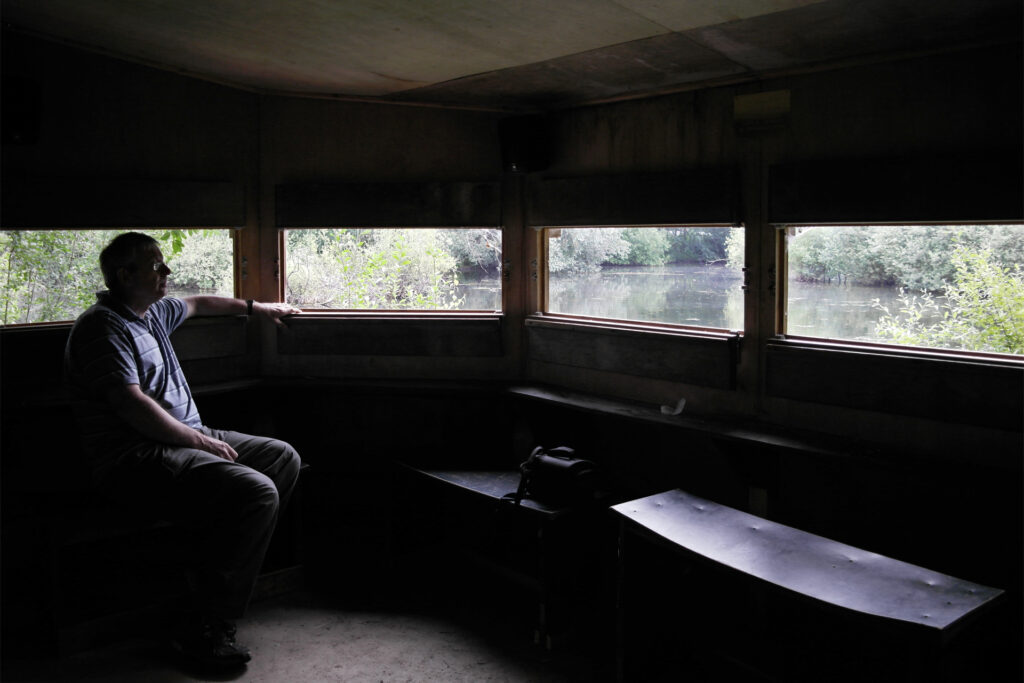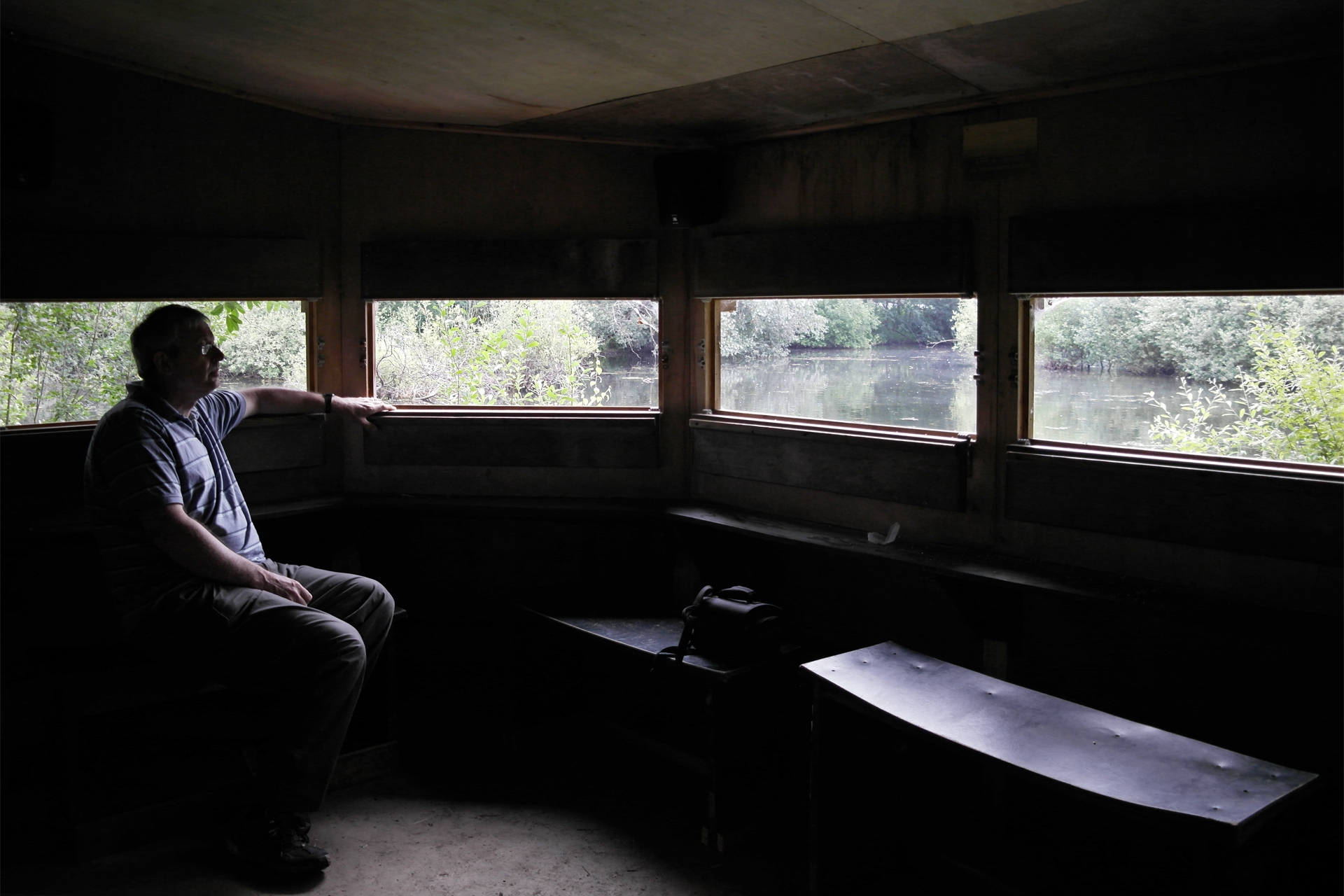 Donatus Subaqua Kolumbien,

EL DORADO
Der See "Laguna de Guatavita" in der Nähe von Bogotá ist der historische, reale Ursprung des Mythos von El Dorado. Er ist heute sehr schwer bewacht und kaum zugänglich. Um ihn zu besuchen und dort Unterwasser-Tonaufnahmen machen zu dürfen bedurfte es vieler Behördengänge und der Genehmigung des Gouverneurs der Provinz Cundinamarca.
Donatus Subaqua Colombia,

EL DORADO
The lake "Laguna de Guatavita" near Bogotá is the historical, real origin of the myth of El Dorado. Today it is very heavily guarded   and hardly accessible. To visit it and make underwater sound   recordings there required many official procedures and the   permission of the governor of the province of Cundinamarca.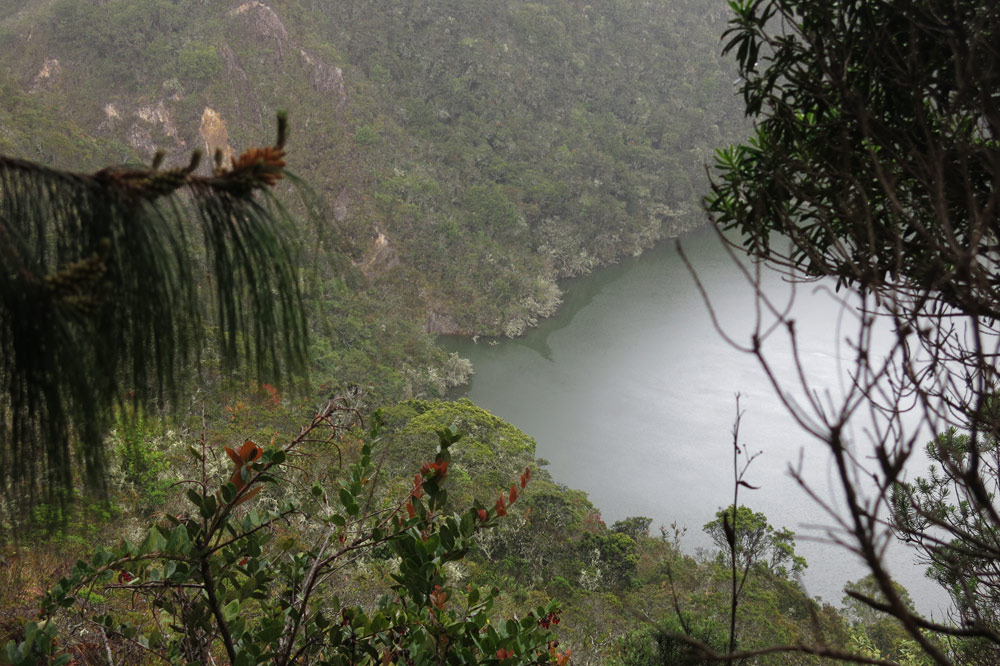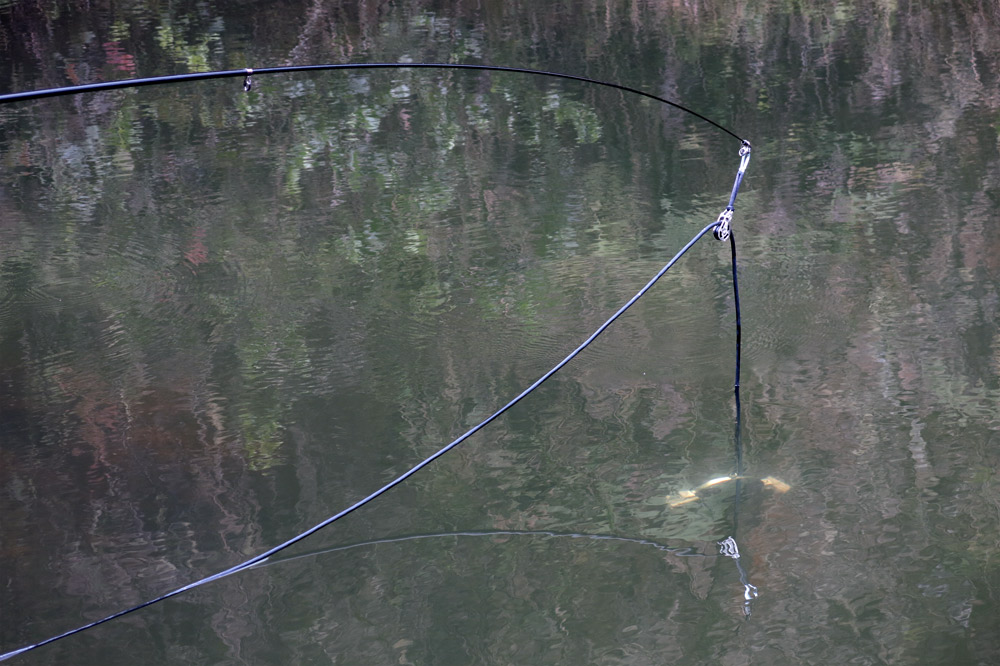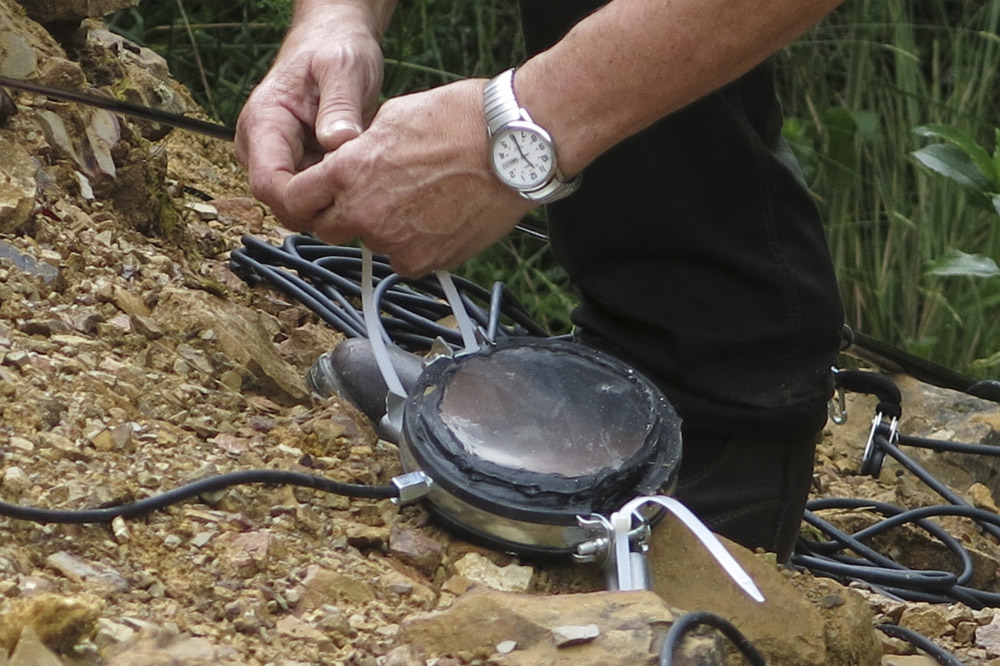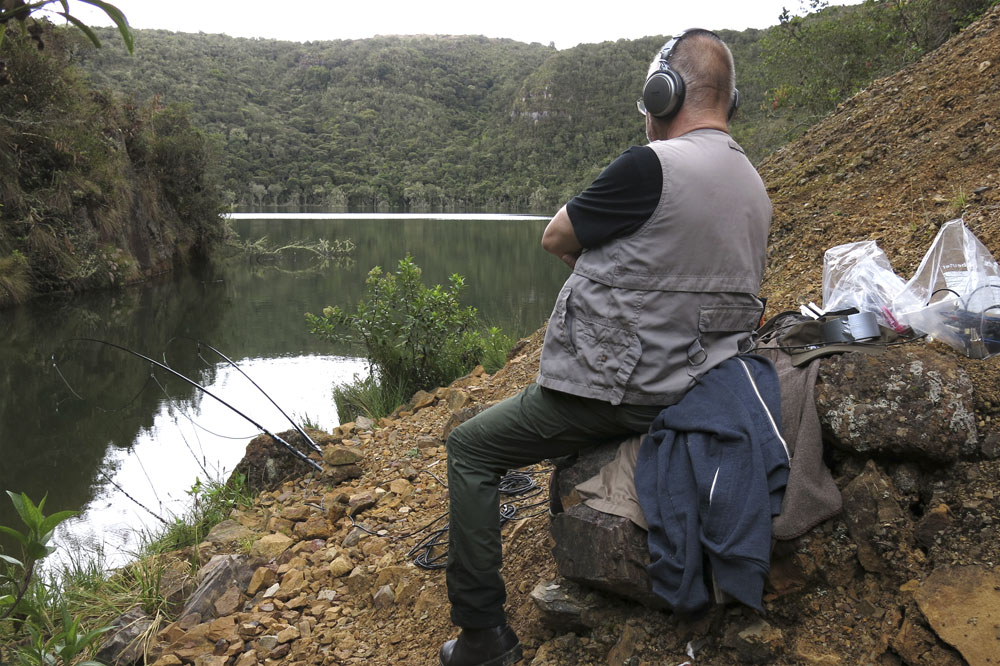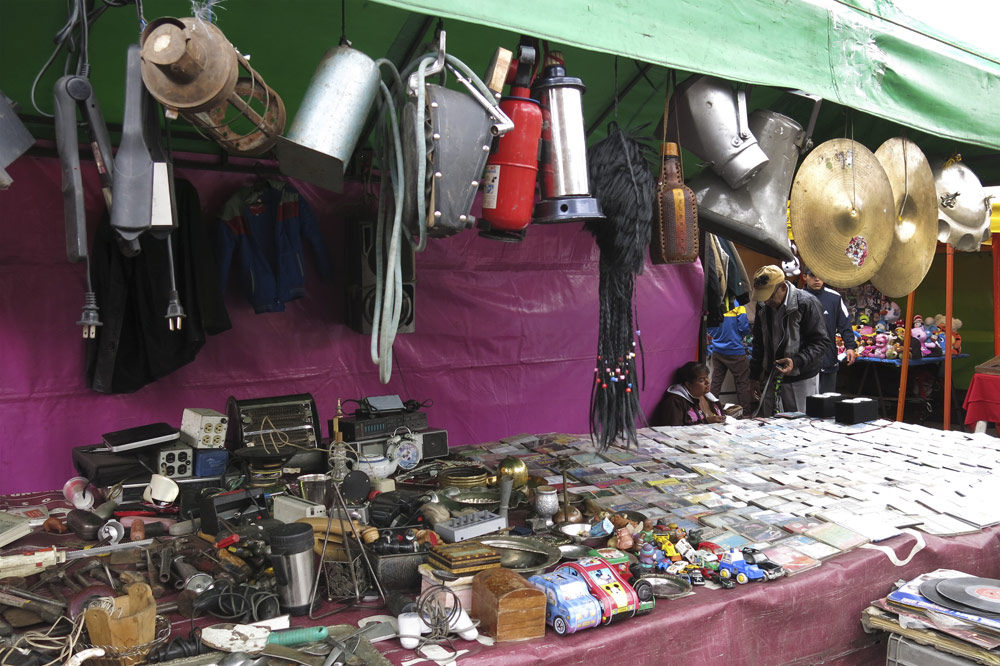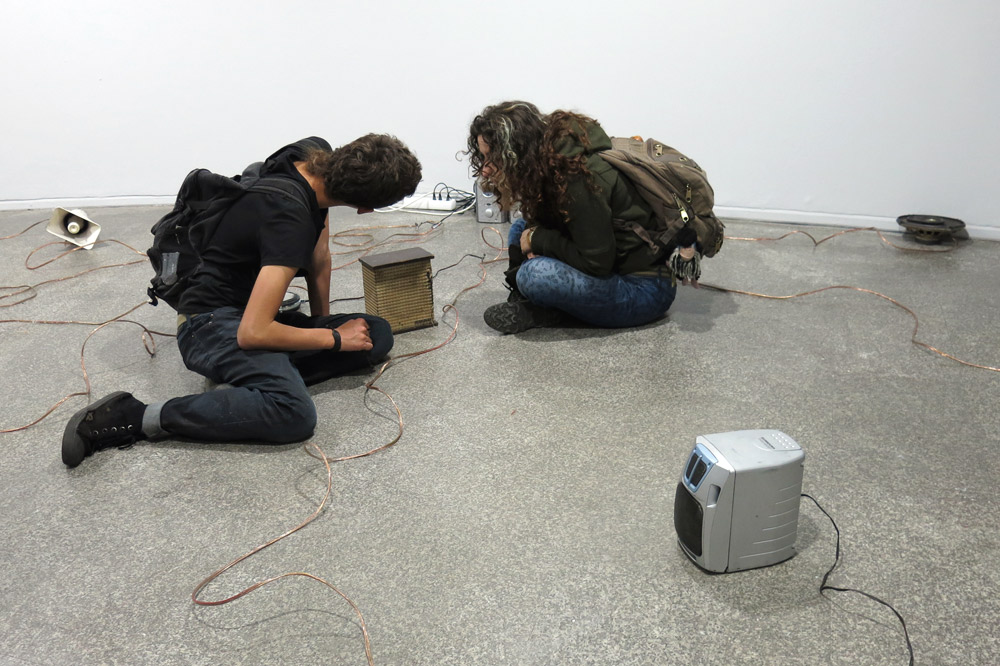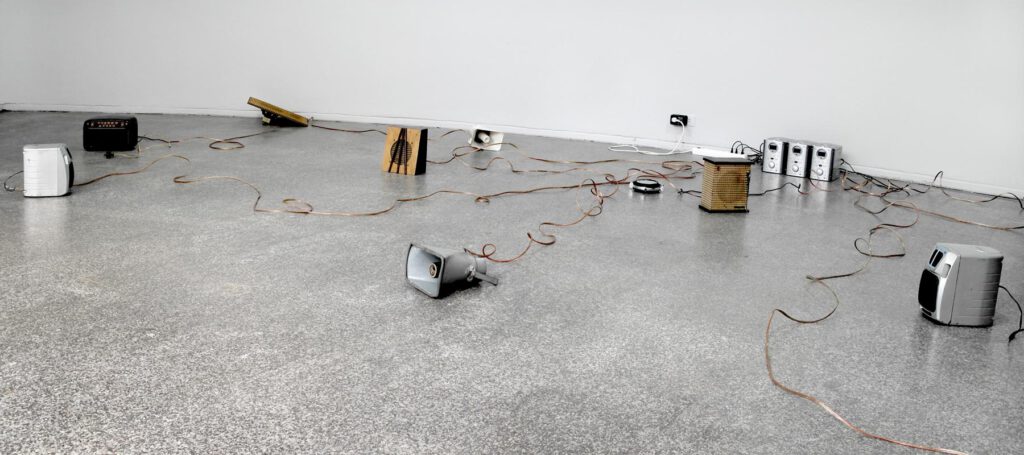 Donatus Subaqua Amazonica, Kolumbien / Peru