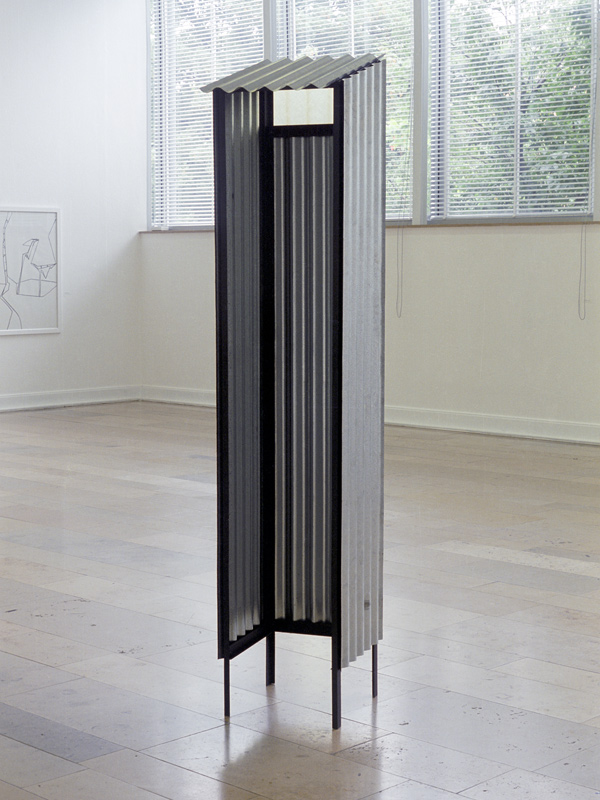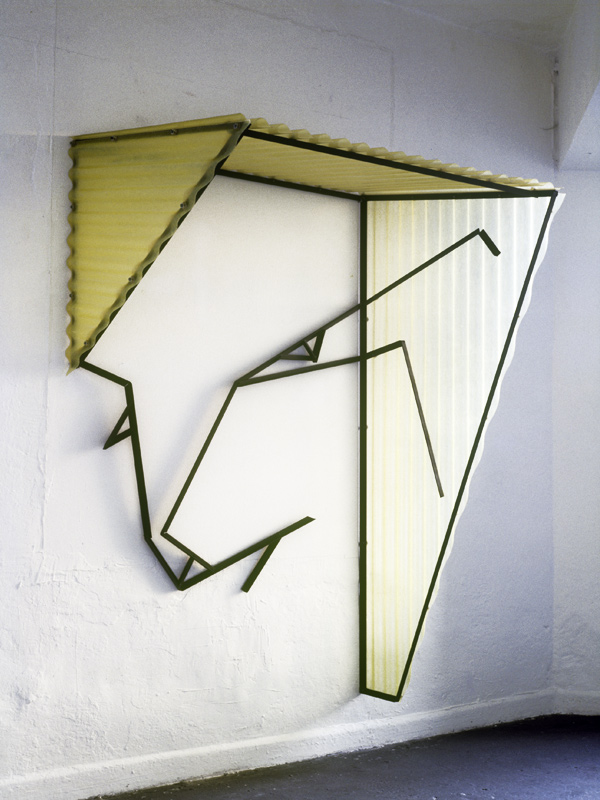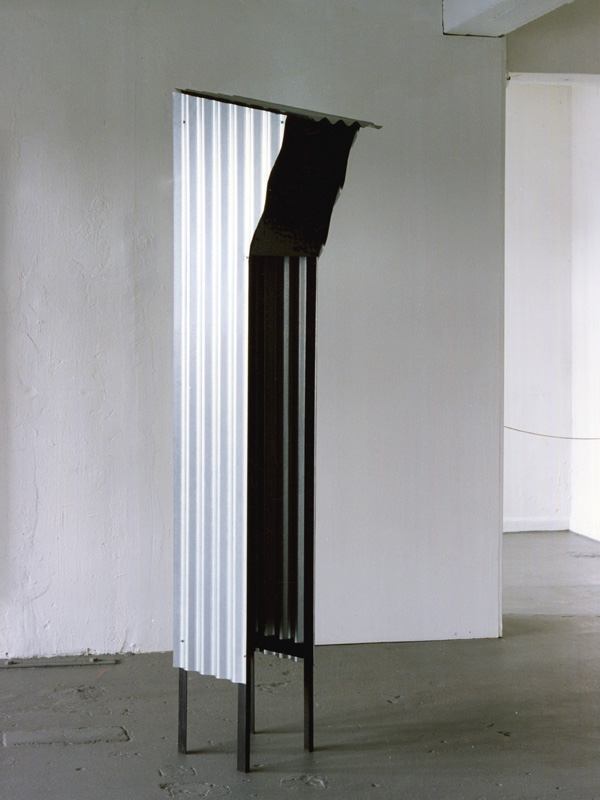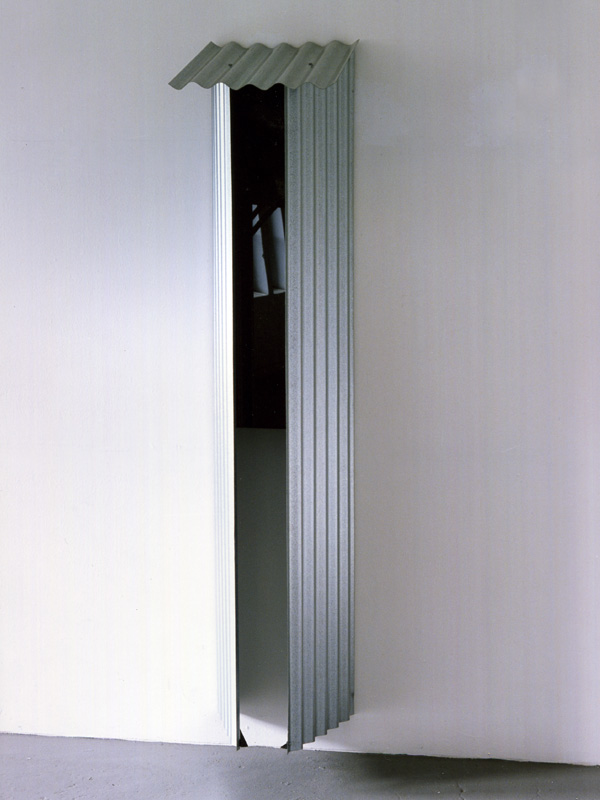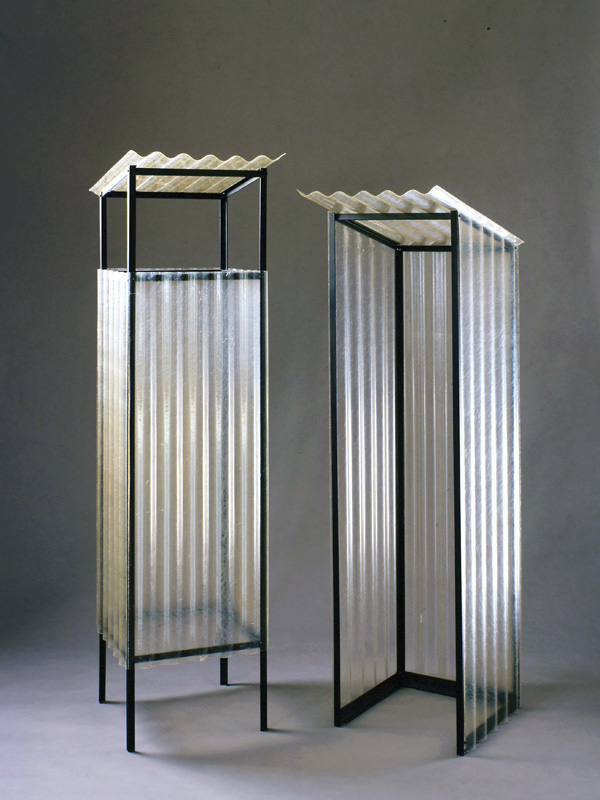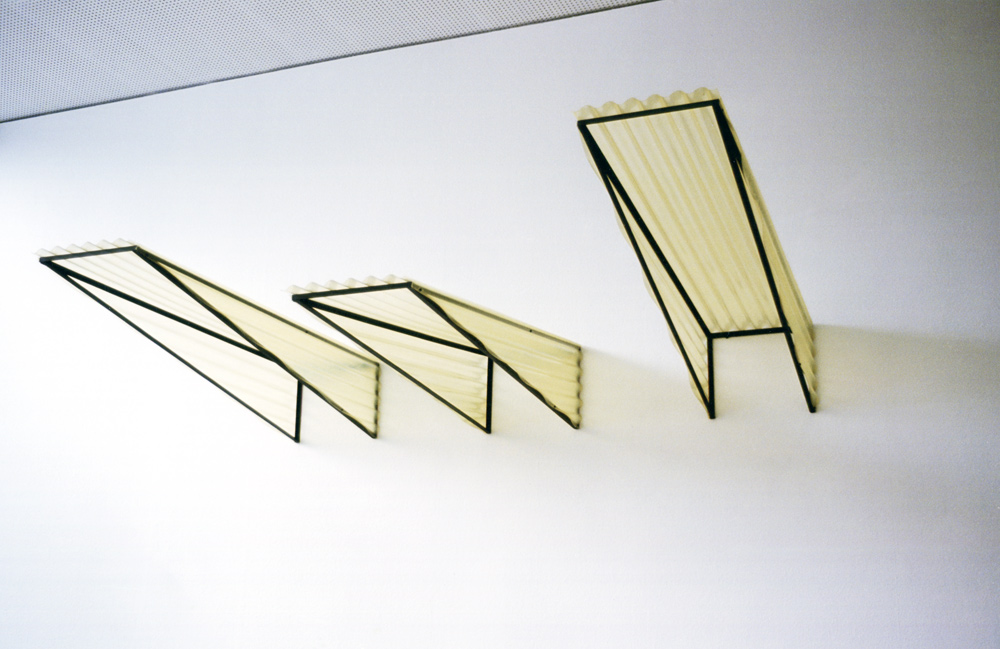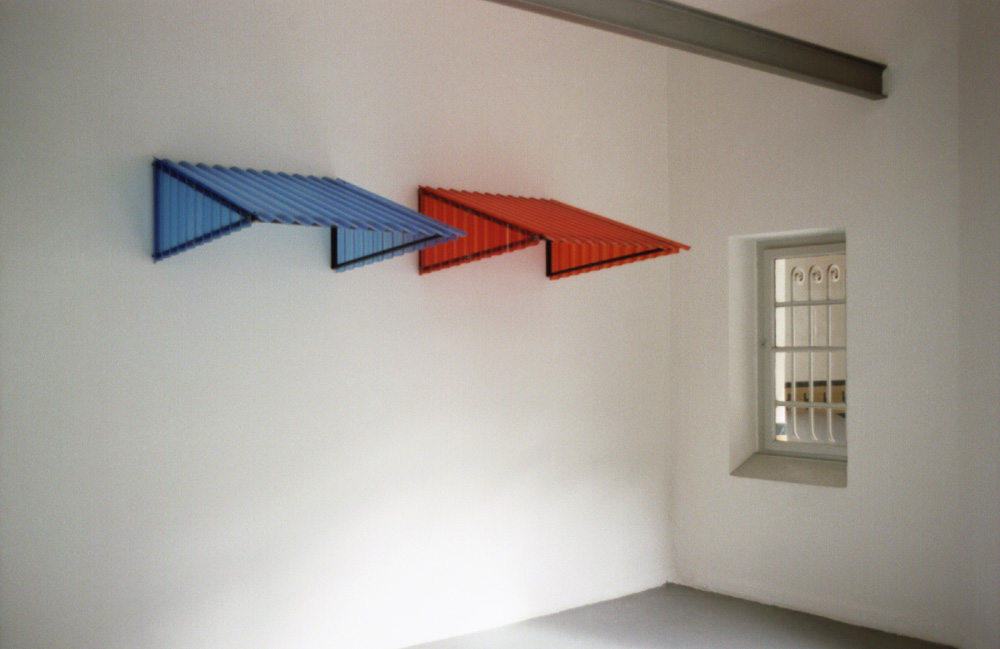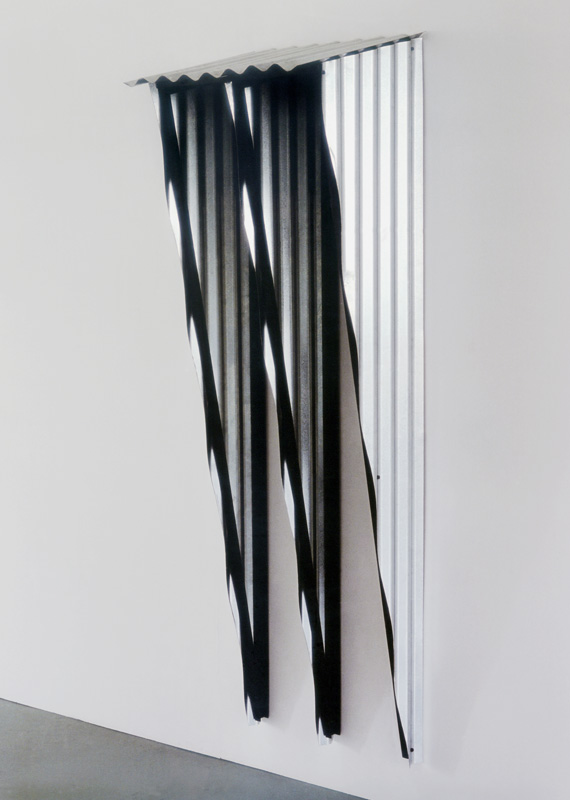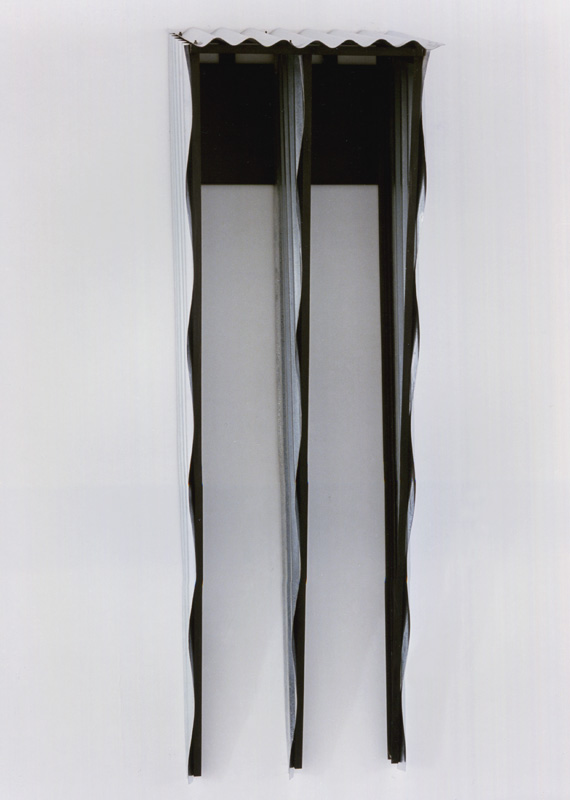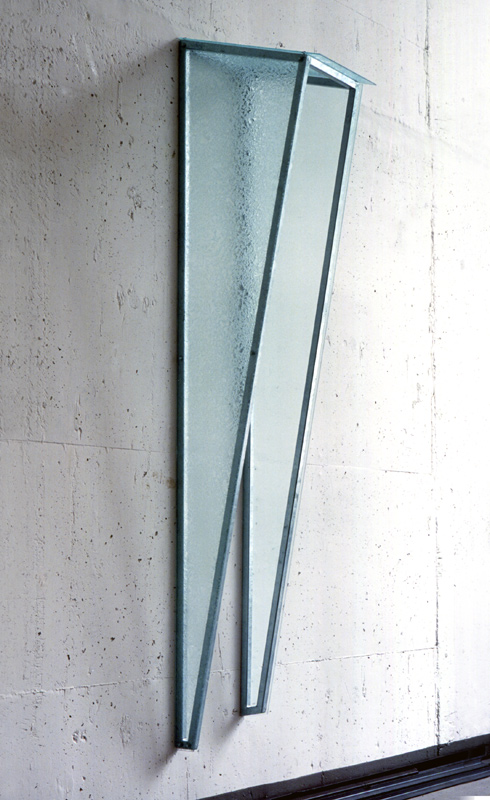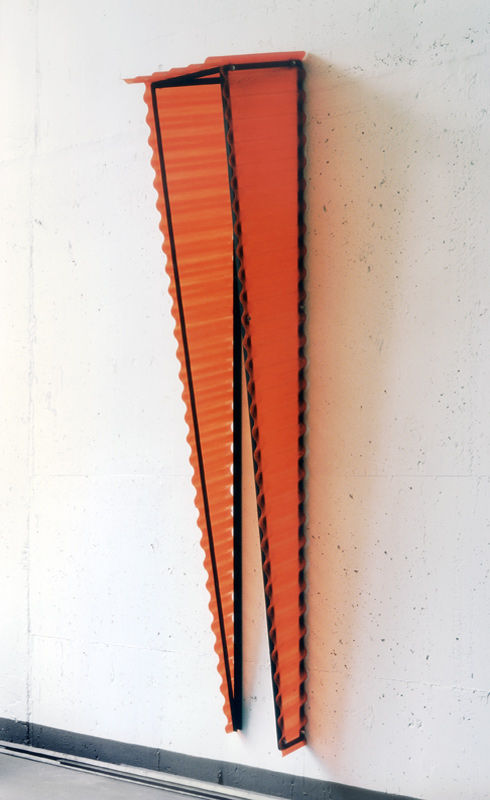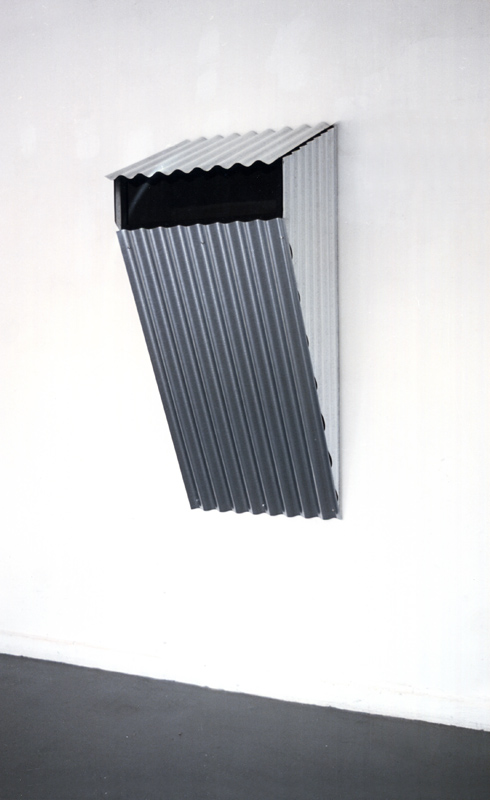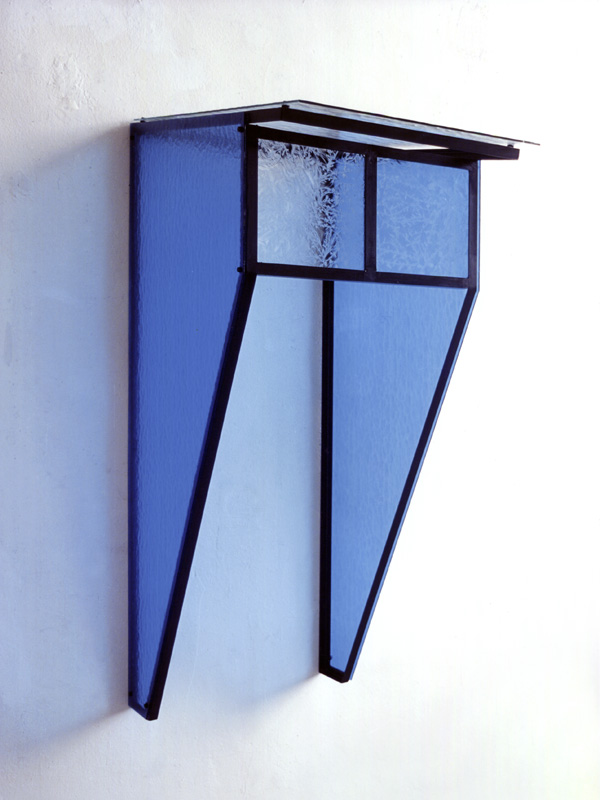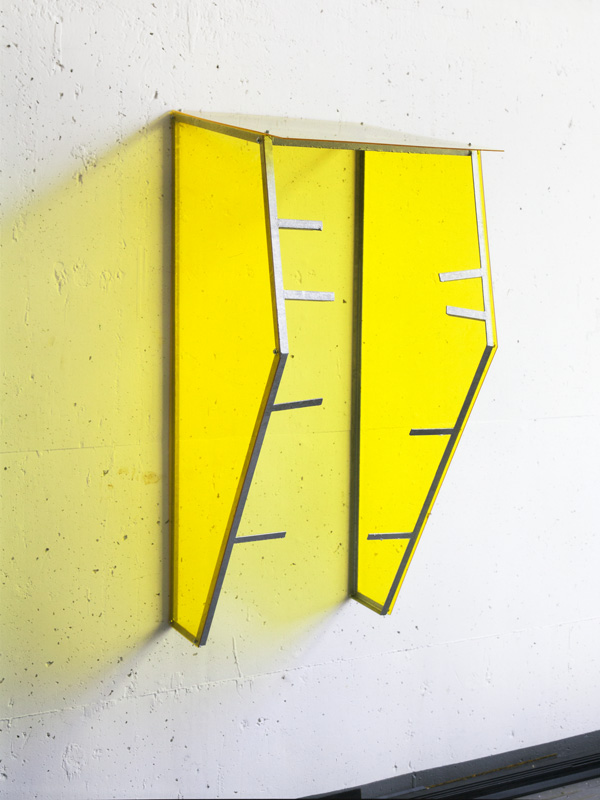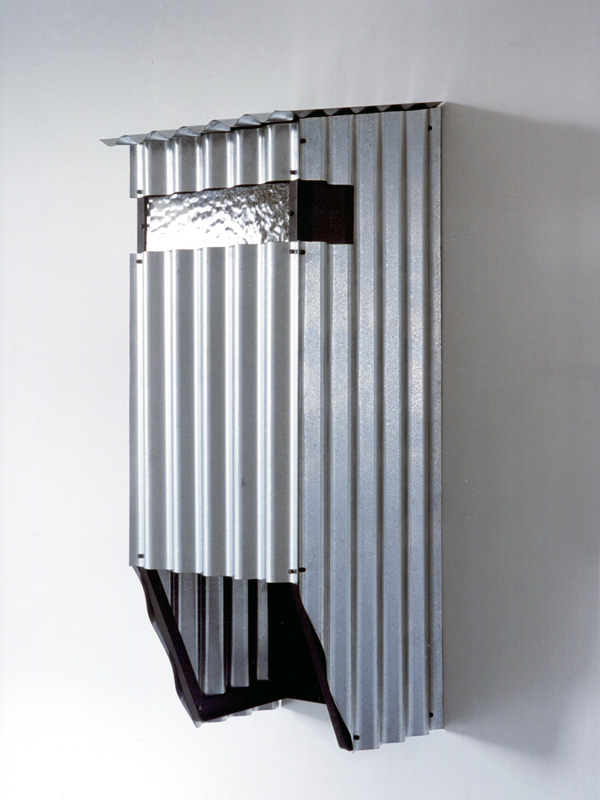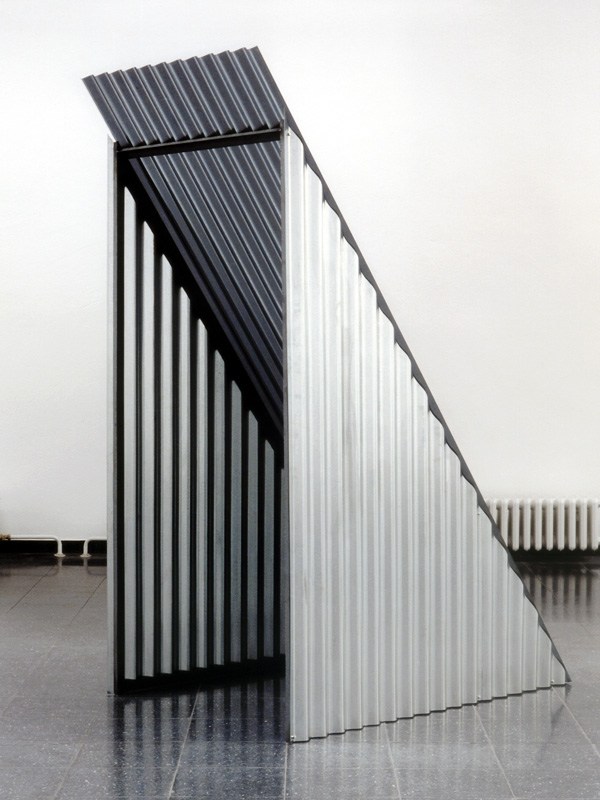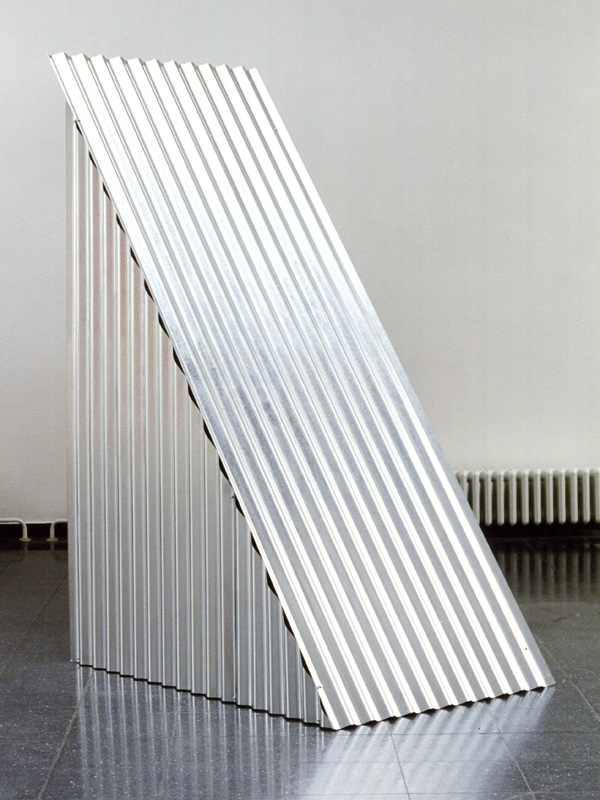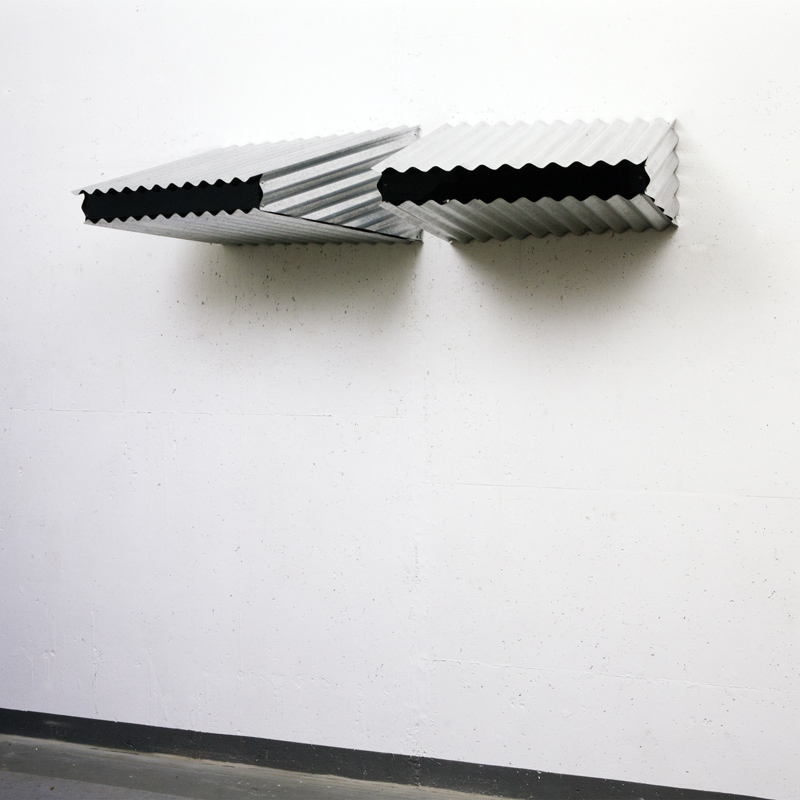 Shelters
(…) Die "Shelters" sind schematische Variationen von Vor- oder Schutzdächern, die Osterwald aus industriellen Materialien wie Wellpolyester, Acrylglas oder Wellblech herstellte, die auch in der Alltagskultur zur Herstellung ähnlicher Objekte dienen. Bei genauer Betrachtung erkennt der Rezipient, dass hier nur die Anmutung eines scheinbar vertrauten Gegenstandes erfahrbar ist, dessen Funktionalität aber in Frage gestellt wird.
Die stillen Schutzräume der "Shelters", die in ihrer Funktionalität vage an Bushaltestellen, Telefonhäuschen oder Einfriedungen erinnern, thematisieren einen Bereich von Schutz und Ummantelung, von Stille und Eingeschlossenheit. In diesem Zusammenhang ist der Begriff der Funktion im künstlerischen Werk von Osterwald wichtig, wobei die Funktionen, mit denen er seine künstlerische Arbeit belegt, Wandlungen unterzogen sind.
Die neue Funktion ist stets verbunden mit dem Begriff der Kommunikation. Dabei gestaltet Osterwald mit visuellen, akustischen und strukturellen kommunikativen Elementen, die immer wieder die Kunstwerke auf die Realität zurück beziehen und darin eine Dimension offenbar werden lassen, in die der Betrachter unmittelbar mit einbezogen ist.
Shelters
(…) Upon a closer look on these "shelters", the observer realises that it is merely an appearance of a seemingly familiar object that can be merely experienced her; an object of which the functionality, however, is put into question. The silent enclosure of the "shelters" which in their functionality are vaguely reminiscent of bus shelters, Phone booths or enclosures, broach the issue of a place of protection and cover, of silence and embeddedness.
In fact, the concept of function plays an important role in the works of Osterwald, with the function he imposes on his artistic works being subject to conversions. The new function is always linked with the concept of communication. Osterwald falls back on visual, acoustic and structural communication elements that time and again relate the artworks back to reality, thus revealing a dimension which directly integrates the contemplator.
Dr. Gabriele Uelsberg, in: Katalog zur Ausstellung / exhibition catalogue "Klaus Osterwald", Rheinisches Landesmuseum Bonn, 08.02. – 18.03.2007
(…) Das Material erinnert an Arbeitersiedlungen aus den sechziger Jahren und an ländliche Siedlungen, die sich einen städtischen Anstrich geben wollen: glasfaserverstärktes Well-Polyester. Haustüren wurden gerne mit diesem lichtdurchlässigen Kunststoff verschandelt, indem man ihnen einen anfangs leuchtenden und dann verblassenden gelben, blauen oder grauen Windfang verpasste.
(…) The material recalls workers' housing estates of the sixties and rural settlements wishing to give themselves an urban veneer: fibreglass-reinforced corrugated polyester. House doors were willingly spoilt with this translucent synthetic material, attaching to them an initially bright and then increasingly dull yellow, blue or grey wind shelter.
Heinz Thiel in KUNSTFORUM INTERNATIONAL: Klaus Osterwald, Galerie Krings-Ernst, 15. 01. – 05. 03.1988